it's only logical that when someone is trying to write a parody or adaptation of a classic story, they will often try to write a title that is similar to the original work. For example, Sam Siciliano's Phantom of the Opera/Sherlock Holmes pairing, The Angel of the Opera. And with Sherlock Holmes titles, I've found that quite a few tribute books have used the title of the original Holmes and Watson adventure to craft the name for their books as well. Starting with the original Holmes' story, we'll be looking at a list of adaptations, retellings, and sequels that use the naming convention "A Study in ___________."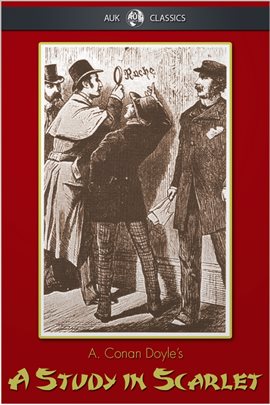 What better place to start than the book that started it all? A Study in Scarlet is the very first Sherlock Holmes mystery, and introduces the famous duo of Holmes and Watson to each other. John Watson is a retired army doctor, seeking lodging in London after his time in Afghanistan comes to a close. A friend introduces him to Sherlock Holmes, another bachelor looking for a suitable roommate, and the rest, as they say, is history. The meat of the story, however, occurs when Holmes reveals his particular brand of work, as the world's first consulting detective. The pair goes on to investigate a strange murder: a man discovered alone in an abandoned house, with the word "RACHE" written on the wall above him in blood. What does this sinister message mean? And who is the man? The answer to these questions is slowly revealed to be a tale of obsession and murder that has spanned decades and even continents, and is a wonderful place to start your Sherlock Holmes adventure. The link above is for the ebook, but you can also find this story in the collection Sherlock Holmes: The Novels.
A Study in Brimstone is easily my favorite title on this list. This book had me laughing so hard I was crying, and I eagerly devoured the rest of the series (at least as many as are published right now!). John Watson, like his more famous literary counterpart, is a retired army doctor, but this John Watson has been discharged due to poor health, and is in such horrid condition that it's any wonder the man is still alive. To make matters worse, he has not had enough money even to live on since leaving the army, and the story opens with him in a restaurant with an old acquaintance, trying to figure out if he should spend his last few coins now, or try and stave off starvation for another week. As luck would have it, Watson's dining partner seems to have gotten himself into a bit of a pickle, and needs to get out of a deal he's made, agreeing to be the roommate to a rather disconcerting eccentric. Watson agrees to take his place, and finds himself living with the world's most inept sorcerer, Warlock Holmes. As you might guess from the title, this whole series has a supernatural bent to it. Holmes is not intelligent at all, instead relying on the dark arts for answers to hidden questions, and Watson, while a likeable character, is something of a freeloading scoundrel at the same time. The stories are absolutely hilarious, but are definitely funnier for readers who know the source material, as well. If you enjoyed this book, the fun continues in The Hell-Hound of the Baskervilles.
A Study in Scarlet Women is the first book in the Lady Sherlock series. Sherlock Holmes is not real. In fact, he's a creation of the brilliant mind of young Charlotte Holmes, a brilliant woman who is too smart for stuffy London society to handle. Charlotte has never felt comfortable playing the role of the demure, reserved woman, expected of so many of the more affluent of British society. But, at the same time, she never felt that she would end up as a complete social outcast, fending for herself. When her city is struck by a trio of unexpected deaths, Charlotte's sister and father become prime suspects. But, in order to find out the truth, she must rely on all sorts of connections and tricks at her disposal, including a kind-hearted widow, a police inspector, a man who has long loved her, and of course, Sherlock Holmes, an imaginary detective brother she cooked up in order to continue her research and simply to survive, matching wits against an unseen mastermind.
If you enjoyed this book, the series continues with A Conspiracy in Belgravia.
We got a taste of a supernatural Sherlock in A Study in Brimstone, but Neil Gaiman has another fantastical take on the detective with "A Study in Emerald". While not a full novel, this short story is a chilling, H.P. Lovecraft-inspired supernatural horror story. Unfortunately, the nature of a short story means that I can't say much without giving a lot away, but I can tell you that this chilling little tale is essentially what would happen if Arthur Conan Doyle was also responsible for the Cthulhu mythos, instead of just Sherlock Holmes. The investigation takes Holmes and Watson Baker Street investigators from the slums of Whitechapel all the way to the Queen's Palace as they attempt to find the answers to this bizarre murder of cosmic horror. Strange, creepy creatures populate the work, and the whole tale is chilling and engaging. The link above is for the short story collection, Fragile Things which includes "A Study in Emerald", but you can also experience the story as an audiobook–narrated by Neil Gaiman himself!–through Hoopla. There is even a graphic novel (for those of you who aren't too scared!) You can also find the graphic novel on Hoopla.
Holmes has been brought out of Victorian times into the world of World War II where he must confront a killer who appears to be eerily similar to Jack the Ripper. The year is 1942, and the streets of London are stalked by a killer going by the name of Crimson Jack, who murders women on the exact dates of the infamous Jack the Ripper killings in 1888. Has the Ripper returned from the grave? Or is Crimson Jack a descendant of the original? Or is he just another lunatic with a lust for blood? In desperation, Scotland Yard turns to Sherlock Holmes, the world's greatest detective. If anyone can discover the secret behind Crimson Jack, surely it would be him. Holmes and Watson must race against the clock in order to find and stop the killer before he's able to complete the list of deadly dates.
This book is inspired by the classic films of Basil Rathbone and Nigel Bruce, which fans will recall featured the detective duo not in their original setting of Victorian London, but in a more modern setting, facing off against Nazis and other threats of the 1940s. Interested readers can also check out those films from our collection, as well.
A Study in Charlotte is the first in the Charlotte Holmes series, a fun YA retelling of the classic series that features Holmes and Watson's great-great-great-grandchildren, Jamie Watson and Charlotte Holmes. Jamie Watson has always been fascinated by Charlotte Holmes. And why not? Their ancestors were two halves of one of the greatest duos in history. But, for as fascinating as she is, Charlotte is every big Sherlock's descendant, having inherited not only his incredibly mind, but also his volatile temper. So, when Jamie gets a rugby scholarship to Sherringford, a Connecticut prep school that's not only an hour away from his estranged father, but also the home of Charlotte, he realizes too late that it might have been better to simply admire her from afar. But, when his classmates start to die in mysterious circumstances, all related to the classic tales of Sherlock Holmes, Jamie knows that he can't keep avoiding Charlotte forever, and if they want any chance of discovering who is behind the killings, these two rivals will be forced to (reluctantly) join forces. Because when there's a killer on the loose, no one is safe, and the only people they can trust are each other.
If you enjoyed this book, the adventures continue in The Last of August.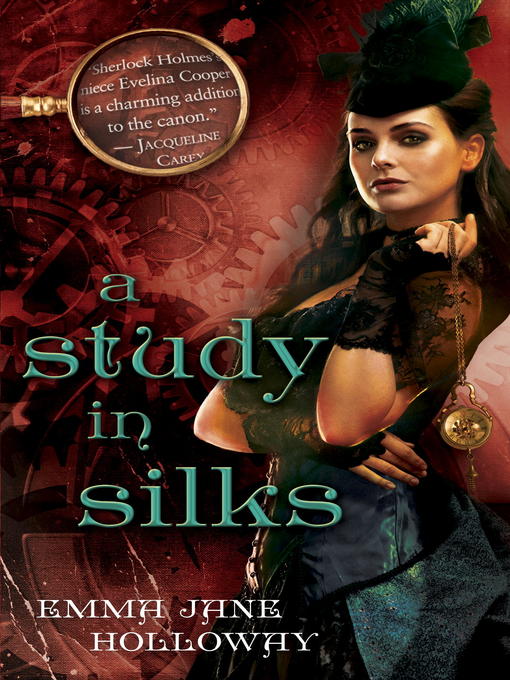 Prepare yourselves for another supernatural Sherlock Holmes adventure! The year is 1888, and Evelina Cooper, niece of Sherlock Holmes is ready for her first London season…except for murder, missing automatons, a sorcerer, and a talking mouse. In a steampunk twist, London is ruled by the steam baron council and mechanical power is the real ruler of the country. But, Evelina has mastered a coveted weapon–magic. But, not just any magic–the kind that allows her to run machines. Even though such power could make her fortune, it could also become a death sentence, or worse–earn Evelina eternity as a guest of Her Majesty's secret laboratories. What other choice does she have put to play it safe, keep her power under wraps, and pray that no one ever discovers what she can do? But, secrets are hard to keep, and Evelina finds herself wondering if she can trust the handsome, clever rake who makes her breath come on faster, or the dashing trick rider who would dare anything for her, if she would only ask.
As with most of the titles on this list, A Study in Silks is the first of a series. If you enjoyed this title, the adventure continues in A Study in Darkness.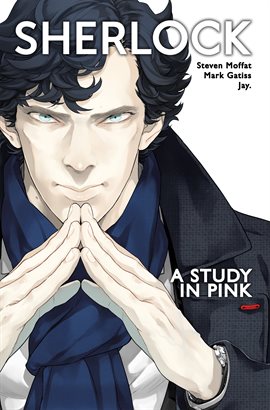 Following the success of the hit BBC drama series, Sherlock, a series of manga (Japanese comic) inspired books were released. A Study in Pink is the first, based on episode one of the show. John Watson, an army doctor who was injured in Afghanistan, first becomes acquainted with Sherlock Holmes, a eccentric man who is looking for a flatmate. The two soon become embroiled in a police investigation led by Detective Inspector Lestrade. There has been a series of deaths, described as "serial suicides" and when Holmes investigates the latest crime scene, he discovers the body of a woman dressed in pink, who has clawed the word "Rache" into the floor. While Sherlock pursues his own theories on the victim, including where she came from and the meaning of "Rache," Watson is contacted by a mysterious man who claims to be Holmes' nemesis.
If you enjoyed this book, the adventure continues in The Blind Banker. Alternatively, you could also check out the BBC television series.
Note: This is the second book in its series. If you want to start at the beginning, please check out The Daughter of Sherlock Holmes.
Joanna Blalock is the product of the briefest tryst between the world's greatest detective, Sherlock Holmes, and the only woman who ever outsmarted him, Irene Adler. Now, she works one third of a detective team with an elderly John Watson and his son, John Watson Jr., who narrates their adventures. When an executed original of a secret treaty between England and France, known as the French Treaty, is stolen from the estate of Lord Halifax, Scotland Yard turns to Joanna and the Watsons to help them track it down. As the government grows increasingly anxious to have the document in hand and the police fail to locate the culprit, Joanna is forced to devise a clever plan in order to locate the missing treaty.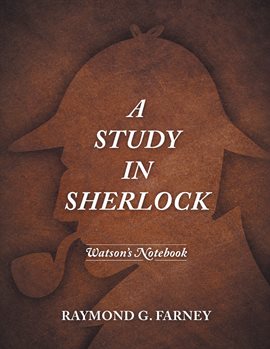 For the last item on our list, we have a title that's less of a Sherlock Holmes adventure and more of all of them at once, A Study in Sherlock is a fascinating look at all of the Sherlock Holmes cases penned by Arthur Conan Doyle. Author Raymond G. Farney takes each adventure case-by-case and provides a fascinating review of all the stories in an easy-to-ready format, breaking down the cases into bite-sized tidbits on publication, plot, and the outcome of the story. Learn about the characters, the crimes, the victims, crime scenes, timeline, evidence and clues, and of course, how Holmes solved the case using his observation and deduction. While this book does not provide any new adventures, die-hard fans and newbies alike will find much to enjoy pouring over the details of each case.