Last month, I gave you all a glimpse into what was on my to-read list for January. This month, I'd like to try that again. I have a lot of good stuff lined up that I'm very excited to read about and share with the rest of you. So, let's get started, shall we?
The year is 1900, and its the start of a new century. John Kemp is a straight-forward, unimaginative London lawyer, fairly successful, and quietly reassured by his predictable, if unexciting, life. But, that all changes on a fateful train ride. Kemp wakes up in the middle of a night to find a hideous creature in his private rooms. He's sure that it's all a dream, caused by a combination of Dracula (his book selection for the trip) and a strange encounter with a eccentric Catholic priest. But, when circumstances provide too many question that cannot be ignored, he realizes that there really is more to the world than he realized–and a whole supernatural dimension that he'd been convinced was the stuff of fantasy. When this leads to a continuing sequence of gruesome events, Kemp's very world view–and his life–are in terrible danger. Can this everyday Englishman survive his encounter with perhaps an even more sinister threat—the white-robed Papists who claim to be vampire slayers? A Bloody Habit is a fantastical tale of vampire-hunting priests and Victorian England. What more could you possibly ask for?
I first read Sula for a class in college, and since it's been…some time…since I've graduated, I decided to read it again. After all, I don't really remember much. This is the story of two young ladies, Nel Wright and Sula Peace, who grew up together in a small town in Ohio. Nel has decided to stay in the same town she was born in, living a respectable life as a wife, mother, and a pillar of her community. Sula, however, goes off to college and to the big city. And when she returns, she's a seductress and a rebel, and her return threatens the stability of the small community she once belonged to. And in the aftermath, both women are forced to confront the choices that led them to where they are today, and to decide if their friendship can sustain when they have grown so far apart. I'm only a few chapters in, but Morrison's language is so beautiful, so poetic, that I'm completely hooked! If you're looking for a book with beautiful language, this might be the perfect title for you.
I don't normally read romance, but Something to Talk About has been on my to-read list for a while. After all, it's a romance about a librarian, written by a librarian from North East Ohio! Glad Donahue is ready for a fresh start . That's why she moves to the small town of Mill Falls, Ohio, as their new librarian. She's got a beautiful historical house to live in (needs some work) and good friends to keep her company. She's perfectly happy on her own and above all else, does not want a new man in her life. Enter Mike Kovalski, a big, burly, dark-eyed hunk who shows up to throw a monkey wrench into her plans. See, Mike has a big problem. One date too many and the town gossips have crowned him the biggest sleaze in Mill Falls. And his boss has given him an ultimatum–either he find a nice girl, settle down, and save his reputation, or lose his job. Of course, the last thing Mike wants is a relationship, but he's not left with much of a choice. So, he sets his sights on winning over the new girl–because you can't get more wholesome than a librarian, right? But, the harder Mike tries to woo her, the more aggressively Glad resists. Add in a town full of gossips bent on blowing things out of proportion and a couple of surprises, and you'll have something to talk about!
Ross Douthat's life was going pretty well. He had just moved with his family, including two young daughters and a pregnant wife, from Washington DC to a sprawling farmhouse in Connecticut. And in the summer of 2015, he contracted a mysterious illness. Left crippled, sleepless, and in terrible pain, Douthat became a shell of his former self. And worst of all, doctors couldn't figure out what was wrong with him. And then finally, his shocking diagnosis came to light. After months of seeing doctors and enduring increasingly painful symptoms, he finally discovered that he had a disease which according to CDC definitions does not exist–a chronic form of Lyme disease, a hotly contested condition that devastates the lives of tens of thousands and has no approved cure. Knowing that there were no easy answers, Douthat sets out on a journey of discovery, off the map of official medicine and into the sketchy pseudo-science in search of answers. And to his shock, he realizes that the answers he seeks can be found in the most unlikely places. The Deep Places: A Memoir of Illness and Discovery is a fascinating look into the world of science and medicine and what a reminder that there is always hope.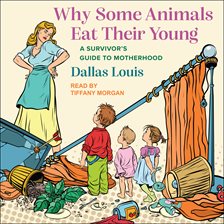 I love to hear funny parenting stories, those tales where it seems like everything that could go wrong does, or ones where kids just say the most ridiculous things or make the funniest assumptions. Dallas Louis's book Why Some Animals Eat Their Young is one of those types of books. Full of funny, sad, and relatable parenting moments (although, to be fair, I don't have children) this book has been a delight. The audio book is a lot of fun, too. Narrator Tiffany Morgan has a clear, crisp voice, and brings the stories to life. You can almost here a constant thin thread of irritation running under every line, which only makes it funnier. From failed trips to Disneyland to attempts to teach her children responsibility, Louis covers all the aspects of what makes parenting so rewarding (and so mind-numbingly difficult). I would recommend this to readers who also like the work of Jenny Lawson.
My grandpa and I have a book club of two. And right now, we're reading The Count of Monte Cristo. This book is absolutely gigantic, clocking in at 1,000+ pages. The two of us are cheating slightly, as the version we're reading has been abridged to about half the size. It's still a big book, but we're completely hooked on it, and my grandpa, who gets bored with long reads, has not complained once. Edmond Dantes' future is looking bright and he has his whole life ahead of him. First, he's promoted to captain of the Pharaon, then the beautiful Mercedes accepts his marriage proposal. Everything is perfect. But, there are those who are not satisfied with Dantes' success, and hidden enemies conspire to have him convicted of treason and left to rot in the notorious prison Chateau d'if. Edmond eventually escapes, and thanks to a hidden treasure left to him by a fellow prisoner, he is able to completely change his identity, becoming the powerful, and supremely rich Count of Monte Cristo. Using this new guise, Edmond–now the Count, plots his revenge on those people who hurt him, a revenge that has been decades in the making. What makes this book so fascinating is watching a very good man go on a descent into darkness and vengeance, leaving the reader increasingly unsure of who the villain of this story really is.
Thom Ngoh is strong. Like crazy strong. Like, rip the door of the car strong. And this is not okay for an eleven year old girl. Finding your place in middle school is hard enough as it is, but add in crazy powers to the mix and…well… Thom has had enough. Things become even more complicated when she accidentally releases the Monkey King from his ancient prison. The trickster god makes her a deal she can't refuse–if she helps him to find his staff, which was stolen from him by the other gods when the imprisoned him, then he promises to take away her strength. The Monkey King is not known for being exactly trustworthy, but Thom is desperate and he seems sincere. Will Thom be able to trust him? Or is she setting herself for more disappointment (and even danger)? Girl Giant and the Monkey King is the first book in a series. If you can't stand a cliffhanger ending, then be sure to also check out the sequel, Girl Giant and the Jade War. I've read the first book already, but it's been about a year, so I'm refreshing my memory and reading it again!