They say you should never judge a book by its cover. And yes, this is certainly true. But, I also will be the first to admit that sometimes, a really interesting cover or title can really catch your attention. And you know what? There's nothing wrong with that! In fact, publishers count on it! So, here are five books that have really interesting, attention-grabbing titles. And if you like what you see here, consider checking out my previous list, of mysteries with awesome titles.
When I first read The Psychopath Test, it became one of those absorbing books that I just couldn't put down. I only stopped reading to eat, sleep, and go to work. Then, as soon as I was done, it was time to continue reading. When we think of the term "psychopath," generally Hannibal Lecter and Patrick Bateman jump to mind. But, psychopathy is less about bloody murder and much more often about a cold, calculating nature with little room for personal feelings or remorse. Ronson dispels many of the common myths surrounding psychopathy, how to identify it, and what to do now that you know about it. Less of a how-to manual and more of a fascinating journey through the minds of men and women, I'm willing to bet that you'll have as hard a time putting this down as I did!
In this surprisingly sweet (and post-apocalyptic) tale, a young girl named Nagi becomes best friends with a giant spider. Nagi lives up in the mountains and is terribly lonely. But, with her new eight-legged friend, things aren't quite so bleak anymore. The two have tea and picnics, and prove that true friendship is not based on what you look like, but what's in your heart. For the curious reader, Giant Spider and Me is a fairly short manga (Japanese comic) series, with only three volumes. So, it's the perfect gentle read for a quiet afternoon at home. And for my fellow arachnophobes, don't worry– Asa was too sweet to be scary! And even though I hate spiders, I couldn't help but love this one!
Cats can't taste sweet things, jellyfish don't have hearts, gorillas can catch colds, and elephants can't jump. This quirky little book is chockful of interesting facts about animals. Some are legitimately sad, but most are either unusual or presented in a more somber light. Each fact is accompanied by an appropriately grumpy or sad-looking animal with its own little commentary to share on the matter. The book's appendix goes into a bit more detail about each of the facts shared, so you can learn even more! Sad Animal Facts is a very quick read, perfect for someone looking for a good book of animal trivia, but who also doesn't have a ton of time on their hands.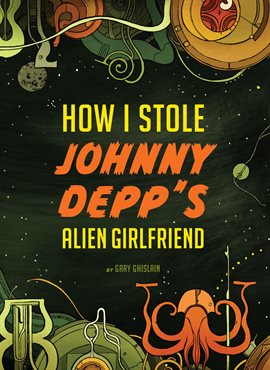 So, I haven't read this one yet, but when it comes to picking up a book strictly for the title, you can't get more intriguing than How I Stole Johnny Depp's Alien Girlfriend. David is fourteen and spending the summer with his psychiatrist father at his clinic for criminally insane teenagers in France. There, he meets Zelda, who claims she's not actually a teen, but a 325-year-old alien who is looking for Johnny Depp–because he's her soulmate. Since I haven't read this yet myself, I can't personally vouch for it, but the reviews on Goodreads are all glowing. This promises to be a very funny, though very strange book about growing up, falling in love, and aliens who are looking for Johnny Depp.
I had the honor of meeting Elise Panehal a few years ago when she came to the library for a poetry reading for her book The Girl Who Couldn't Talk Dirty. Both poet and poetry are delightful. This is a collection that's especially fun to hear read aloud. Panehal's collection contains writings by herself, her mother, and her two daughters, making it three generations of beautiful writing. If you're looking for a good poetry collection, and would like to support a local author, I highly recommend Elise.