Maybe Something Beautiful: How Art Transformed a Neighborhood written by F. Isabel Campoy and Theresa Howell and illustrated by Rafael López is a delightful story of a young girl bringing joy to her neighborhood. Maybe Something Beautiful reinforces how a simple act by one person can affect so many lives.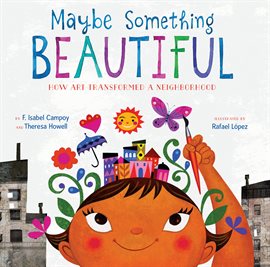 Maybe Something Beautiful: How Art Transformed a Neighborhood is based on the true story of the Urban Art Trail in San Diego, California. The illustrator Rafael López and his wife Candice López brought their neighbors together to create art and transform their neighborhood.
Have your child create a beautiful and colorful piece of art.
Materials
Liquid water color paints or watered down tempera paint or food coloring
One straw
Scissors
Construction paper
Cookie sheet or tray with edges to contain the paint
Dropper
Instructions
Cut straw in half.
Place one piece of construction paper onto cookie sheet.
Use dropper to drop paint onto construction paper.
Use one half of straw to blow paint around on the paper.
Continue to drop different colors of paint onto construction paper and blow around to make a colorful design.
Enjoy and Share you new design!
We all need a little beautiful in our lives!