A few years ago, I started reading all the Newbery award winners, going all the way back to 1922 (once I finish, I plan on going back and reading the Newbery honor books as well!). It's been a rewarding experience and I'm finding a lot of good things to read. Some aren't quite my cup of tea, but that's the fun of a reading challenge like this–you get to try a bunch of different stories, including ones you wouldn't normally read.
However, I'm really excited about this year's winner. Before we go much further, I should probably tell you what the Newbery Award is. This is in recognition of a book that is determined to be "the most distinguished contribution to American literature for children". Sort of a "best of the year" designation.
This year's title is When You Trap a Tiger by Tae Keller. Korean folklore comes to life in this magical tale of a young girl and a family secret. Lily's grandmother is sick, so she and her family move in with her. But, when a magical tiger, straight out of her halmoni's stories appears and offers her a deal–retrieve a stolen item for him and he'll cure her grandmother–Lily is tempted to accept. But as with any good fantasy story, deals like these are never what they seem, and Lily will need to find her courage and her voice in order to stand up to the tiger.
If you're looking for more, consider checking out some of the Newbery Honor Books for this year. These are excellent books that didn't win, but were still in the running for the first prize.
All Thirteen: The Incredible Cave Rescue of the Boy's Soccer Team details the real-life events that occurred in Thailand in 2018 when a boy's soccer team decides to visit a cave for an afternoon's recreation. But, when rising water blocks their path, the group is left stranded, and the clock is ticking on a daring seventeen day rescue mission! How can a group of boys survive for over two weeks in complete darkness with no food and no clean water? Well, these aren't your average boys. With photographs, interviews, and detailed information on the region, its religion, and its culture, this is a pulse-pounding and fascinating true story!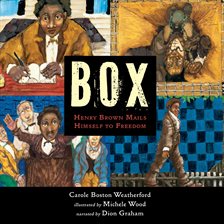 Box: Henry Brown Mails Himself to Freedom is a powerful poetry collection based on the true story of Henry Brown, who is born into slavery but escapes in the most unlikely way possible: shipping himself out of the state in a box. Each poem is told in stanzas of six lines (to represent the walls of the box). This fascinating adventure from slavery to freedom comes supplemented with a biography of Henry Brown, historical records, and even excerpts from Brown's own writing.
Della has always had her older sister Suki to look out for her. When their mom went to prison, when their mom's boyfriend took them in, and even when the boyfriend did something so awful they had to run, Suki was always there for her. But, if Suki is protecting Della, then who is protecting Suki? When Suki tries to kill herself, Della's whole world turns upside down. All this time, she's been trying her best to stay quiet when it counts. But, perhaps this is not the time to be quiet. This just might be the time to speak up. Fighting Words tackles some pretty heavy topics such as sexual abuse and the stigma that surrounds it, but handles things with compassion and humor, making this an ideal book for older children or more mature readers.
Katie from Youth Services recommended this book for one of our Staff Picks posts. You can check out her review here.
We Dream of Space is set in 1986, as the world waits with bated breath for the launching of the space shuttle Challenger. Set against this backdrop, we meet three siblings: Cash, with his love of basketball (but broken wrist) is in danger of flunking seventh grade a second time; Fitch spends his afternoons at the arcade, struggling with his explosive temper; and Bird dreams of being the first female shuttle commander for NASA, but feels like she's disappearing. Despite being in the same class, the three find themselves completely in a different orbit from each other, but when the fated NASA launch day arrives, it will bring them together in unexpected ways.
All the light in Chattana is created by the Governor, who appeared after the great fire to bring peace to the city. Pong was born in Namwon Prison, and dreams of the life that the light represents and the freedom that will surely be his when he gets out. But, after a daring escape, he realizes that the world outside is no better than in the prison. The wealthy live in bliss under the bright light, while the poor toil in the darkness. And because of his prison tattoo, Pong is literally branded as a fugitive and can never truly be free. Nok is the daughter of the prison warden and has made it her mission to track down Pong and clear her family's name. But, as she hunts the fugitive boy, she discovers a world far different than what she was taught, and begins to question everything that she's ever known.
A Wish in the Dark is a magical tale of wealth and poverty, set in a Thai-inspired fantasy world, as well as a loose retelling of Victor Hugo's Les Misérables. And I don't know about you, but the elevator pitch "Thai fantasy Les Misérables" has me seriously excited!