I love a good game of cards. It started early, when I would play gin rummy and UNO with my grandparents, and even now, I still enjoy a good game of Old Maid, Go Fish, or even Solitaire (although UNO is still the best game in my book!)
The winter weather has driven us inside, and COVID has prevented us from seeing a lot of our friends. So, instead of binging another season of your favorite show, why not break out a pack of cards and play a game with the other members of your household? Live alone? no worries! There's a card game for that, too. Solitaire is one of my favorites, and believe it or not, there are TONS of varieties you can play, so even alone, you can keep yourself entertained for hours.
Learn how to Play the 200 Best Card Games Ever covers, as the title suggests, 200 different card games. Whether you're looking to play Canasta, Bridge, Rummy, Blackjack, Cribbage, Whist, Solitaire, or Poker, there is something here for everyone. Family game night just got a whole lot more exciting with this varied collection of games. The directions are easy to understand and are also illustrated, designed to make this an ideal book for the novice card-shark or anyone looking to add a bit of flair to an otherwise quiet Saturday.
If you're primarily playing with younger family members, then perhaps Crazy Eights and Other Card Games will be more your speed. This simple book shares 20 games that are perfect for players of all ages, such as Crazy Eights, War, Slap-Jack, or Go Fish. Illustrations make it easy for everyone to understand and follow the rules, and of course, the games themselves promise hours of enjoyment. Additionally, younger players will be able to learn how to properly hold their cards and how to properly shuffle–both of which are must-have basic skills for any card game, whether you're playing Old Maid or Poker.
I love to play Solitaire. Sometimes I'll play while I'm watching TV. Sometimes, when I'm listening to audiobooks. I'm a notorious fidget, so having something to do with my hands is a necessity. For the longest time, I thought that Solitaire could only be played one way, viz. that style that comes default on computers. But, that's only one type (and for the curious, it's called Klondike). There are in fact, tons of other solo-player card games, including ones played in a long line, as well as those played in circles. Some even use more than one deck. One of my favorites involves a special type of Japanese playing card called a "flower card" or hanafuda. Luckily for us, Card Games For One contains simple but fun games that don't require special cards. Just a pack of your usual playing card will do nicely!
I love the "For Dummies" series because it takes complicated topics and breaks them down into bite-sized chunks that most people can understand–because learning should be fun! But, I can already see the grimace on some of your faces as a suggest Card Games for Dummies. No, I'm not questioning your intelligence. I'm just sharing a great series with you. Beginning card players will find simple and easy-to-follow instructions for learning a new card game, while more experienced players will be able to pick up hints and tips to really make their game stronger. In short, there's something for everyone!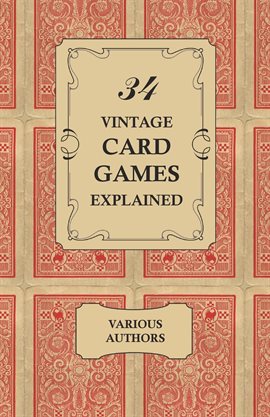 Want to try something new? Impress your friends at your next game night? Then, why not try something old school with 34 Vintage Card Games Explained? This collection contains (as the title suggests) vintage and classic card games that have generally been forgotten. While there are some familiar games like Euchre and Poker to be found here, you can also explore varieties like Loo, Matrimony, Catch the Ten, Sift Smoke, and Pope Joan. Enjoy the experience of learning classic techniques and games that aren't really played today. And enjoy teaching your friends all about them, too.