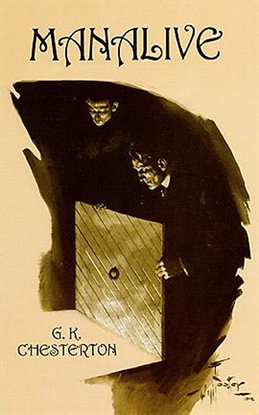 Sometimes, the classics start at a leisurely pace, describing a beautiful piece of landscape–a farm perhaps–or the current lazy daydreams of a young protagonist. Other times, the classics start off with a bang, as a group of renters at a boarding house stand outside on a particularly windy day, and a huge man comes bounding over the wall, in pursuit of a hat. In case you haven't guessed, this month's classic will be one of the latter.
Book of the Month
Manalive (1912) by G.K. Chesterton
Opening Words
"A wind sprang high in the west, like a wave of unreasonable happiness, and tore eastward across England, trailing with it the frosty scent of forests and the cold intoxication of the sea. In a million holes and corners it refreshed a man like a flagon, and astonished him like a blow. In the inmost chambers of intricate and embowered houses it woke like a domestic explosion, littering the floor with some professor's papers till they seemed as precious as fugitive, or blowing out the candle by which a boy read "Treasure Island" and wrapping him in roaring dark. But everywhere it bore drama into undramatic lives, and carried the trump of crisis across the world."

Manalive, G.K. Chesterton
What's It All About?
Life at Beacon House has become quite pedestrian, and its residents have become bored and sedentary. Then, one day, as a group stands outside, discussing a disquieting letter that one of them received from an old college friend, a hat comes flying over the wall, closely followed by Innocent Smith, a bloated giant of a man–and the author of the letter–who quickly ingratiates himself into the group and moves into the vacant attic room. But, just as the group warms up to the newcomer, he runs off, and a doctor arrives to announce at the fugitive Smith is actually a dangerous madman. Enlivened by the first excitement Beacon House has had in years, the boarders decide to hold a court of their own and determine whether Smith is truly guilty of the crimes he's accused of.
Read this if you Enjoy…
Humorous stories
A dash of mystery
Philosophical debate
Interested? Check it out Here!
[Overdrive ebook] [Hoopla ebook]
Final Thoughts
I first read Manalive with absolutely no idea what the story would be about. And once I started, it was really hard to put it down. This madcap, hilarious adventure pulls the rug out from under you constantly, making the reader question (again and again) the nature of innocence, truth, and even life and death. This is a book that made me laugh out loud, and yet also sat with me for a long time when I finished reading. Full of Chesterton's trademark wit and whimsy, Manalive is a great introduction to the author's works and very accessible for Chesterton newbies. If you're looking for something that will make you laugh and make you think deeply about things, then this is a great book to check out! Come to think of it, I'm due for a reread….so I think I'll have to check this out again soon, too….