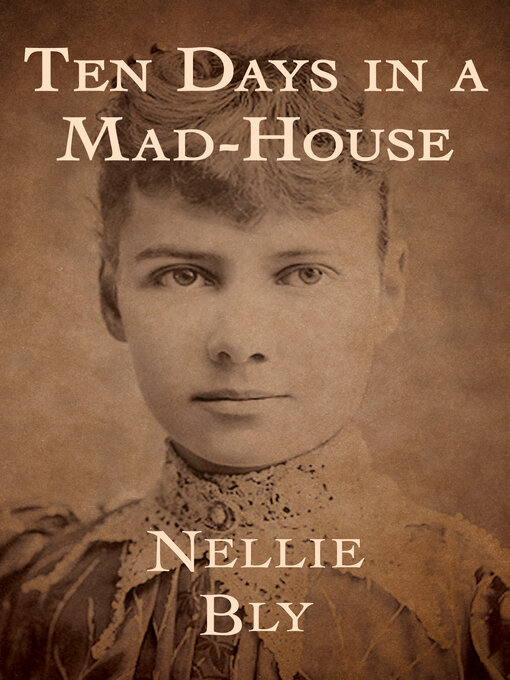 This month's classic is a little different from most of the titles I've selected. Namely, it's a work on nonfiction, based on a real, journalistic account of a young woman's experiences in an asylum for the insane. It's a short, quick read, but admittedly a difficult one, and while I stand behind the classics I recommend, I admit that some readers might find it hard to get through. Still, if you're able to stomach a story of desperation, madness, and cruelty, you'll discover an ultimately hopeful story and an amazing and daring young journalist named Nellie Bly.
Book of the Month
Ten Days in a Mad-House (1887) by Nellie Bly
Opening Words
On the 22d of September I was asked by the World if I could have myself committed to one of the asylums for the insane in New York, with a view to writing a plain and unvarnished narrative of the treatment of the patients therein and the methods of management, etc. Did I think I had the courage to go through such an ordeal as the mission would demand? Could I assume the characteristics of insanity to such a degree that I could pass the doctors, live for a week among the insane without the authorities there finding out that I was only a "chiel amang 'em takin' notes?" I said I believed I could. I had some faith in my own ability as an actress and thought I could assume insanity long enough to accomplish any mission intrusted to me. Could I pass a week in the insane ward at Blackwell's Island? I said I could and I would. And I did.

Ten Days in a Mad-House, Nellie Bly
What's It All About?
At the request of her employers, journalist Nellie Bly takes on the most curious assignment imaginable–to try and fake her way into an asylum in order to expose the terrible conditions within. In order to do so, not only does Bly have to pretend to be insane, but to maintain her act until she's been formally admitted. Afterwards, her employers will do their utmost to get her out again.
The book itself is a very quick read, but a shocking, punchy, and heartrending tale. During her time in the asylum (just over a week as the title suggests), Bly meets all manner of women, including some who are, by today's standards, very much sane, and who really have no business being locked up. She details brutal conditions, poor quality food, frigid temperatures, beatings, and more, all the while trying to keep herself out of the way of various abuses, and avoiding fellow journalists and other prominent figures around the area who might recognize her and expose her undercover plans.
Read This if You Enjoy…
Undercover exposés
Daring women
Books about hospitals, treatment centers, and other medical establishments
Shocking true stories
Interested? Check it out Here!
[Hoopla ebook] [Overdrive audiobook]
Final Thoughts
Despite the conditions that Bly endured and the horrible things that she witnessed, this is ultimately a hopeful narrative. And readers will be happy to know that her exposé actually had the desired effect, and brought much-needed reform to the mental health system of her day. The book reads like a shocking work of fiction, but unfortunately is all too true. But, readers who are looking for something quick and emotional will find much to enjoy here. And for readers who would like to learn more about Nellie Bly, but aren't interested in reading about this particular experience, can find other pieces by the author on a variety of topics.