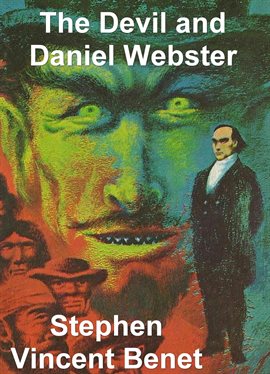 Welcome to the newest installment of The Classic of the Month! This month, we're going to be looking at one of my all-time favorite short stories, a tale of a man driven to desperation and despair, who can only be saved by the best lawyer in all of New Hampshire. I've read this story countless times, and each time it just gets better and better. I hope you enjoy it, too!
Classic of the Month
"The Devil and Daniel Webster" (1936) by Stephen Vincent Benét
Opening Words
It's a story they tell in the border country, where Massachusetts joins Vermont and New Hampshire. Yes, Dan'l Webster's dead–or, at least, they buried him. But every time there's a thunder storm around Marshfield, they say you can hear his rolling voice in the hollows of the sky. And they say that if you go to his grave and speak loud and clear, "Dan'l Webster– Dan'l Webster!" the ground'll begin to shiver and the trees begin to shake. And after a while you'll hear a deep voice saying, "Neighbour, how stands the Union?" Then you better answer that the Union stands as she stood, rock-bottomed and copper sheathed, one and indivisible, or he's liable to rear right out of the ground. At least, that's what I was told when I was a youngster.

"The Devil and Daniel Webster", Stephen Vincent Benét
What's it all About?
"The Devil and Daniel Webster" is a gripping short story about Mr. Jabez Stone. Having fallen on hard times, Jabez Stone makes a most unfortunate deal with a sinister stranger who stops by his house one night (I'm sure I don't need to tell you who this stranger is!). The only problem is the deal itself: seven years of good fortune in exchange for his soul. See, the stranger keeps up his end of the bargain, and Mr. Stone has seven years of prosperity as promised. But, he can't enjoy his newfound freedom when his end of the bargain looms dark and threatening on the horizon. So, rather than simply giving up and handing over his soul, Mr. Stone finds himself the greatest lawyer in New Hampshire, Daniel Webster, and asks him to defend him in a diabolical court.
Read this if you Enjoy…
Short Stories
A deal with the devil
Something spooky
Historical Fiction
Interested? Check it out Here!
Final Thoughts
When I'm looking for a good story to really sink my teeth into, I often find myself reaching for this little book on my shelf. "The Devil and Daniel Webster" is one of my all-time favorites, and easily the best "deal with the devil" story that I've ever read. If you want more stories with this theme, you can also check out The Devil and Tom Walker, Dr. Faustus, and Johannes Cabal: The Necromancer. Likewise, the movie The Imaginarium of Dr. Parnassus features one of the more complexly likeable devil characters that I've seen in film. Honestly, though, what I enjoy so much about "The Devil and Daniel Webster" is the sense of patriotism and American pride. This has all the earmarks of a great "tall tale" as well, so readers who are fond of American folktales will also find a lot to enjoy.
I picked up my copy of this book in a small used bookshop in Florida, and it contains two other stories. While the middle tale is okay so-so, I highly recommend the final title in the book, Johnny Pye and the Fool-Killer. We don't have this title in our collection, so the link will take you to Project Gutenberg where you can read it online. Scatter-brained Johnny Pye is constantly told that the Fool Killer is going to get him if he doesn't watch out, so he sets out on adventure after adventure, determined to outrun this mystical man.