Sometimes, there's nothing like a good graphic novel. If you enjoy graphic novels and hate having to deal with pesky holds lists, then these books just might be for you! These titles on Hoopla are always available with no waiting–so download the app and check them out today!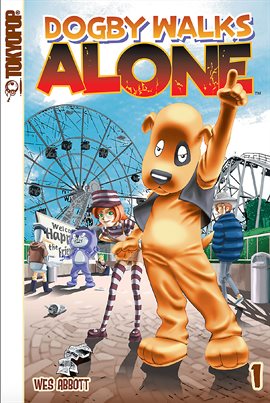 This strange little book (the first in a two-part series) is the story of Dogby, an amusement part employee who dresses in a dog suit. When a rival theme park attempts to steal a week's worth of revenue from HappyPlace, it results in murder. Dogby learns of the death of his sweetheart during the raid and embarks on a quest to find justice for her murder. But, the deeper Dogby digs, the more rotten things become, and it soon becomes apparent that corruption has deeply infiltrated HappyPlace, and might even reach all the way to the top.
This is a weird blending of the upbeat and happy carnival setting with a very strong noir atmosphere. If you liked this story, consider finishing the series with book #2– Dogby Walks Tall.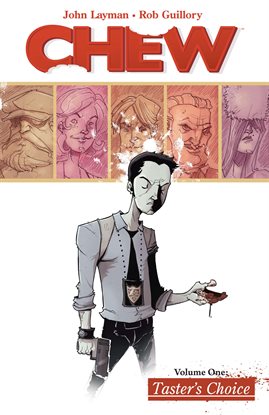 Hold onto your hats. Chew is a real wild ride and not for the faint of heart. Tony Chu is a Cibopath, someone who gets psychic impressions from the food he eats. For example, if he eats an apple, he can tell you where the apple was grown, who picked it, etc. And if he eats a hamburger…well, you get the idea. But, Tony is also a homicide detective. So, sometimes (unfortunately) the best way to solve a murder is to…well…
When Tony is called in by the FDA to be part of their Special Crimes Division, a whole new world opens up to him– a world of limitless opportunities–and corruption. This is the first book in a twelve-book series. It's a bit of a mouthful at times, and definitely not for the weak of stomach. But, the story is fascinating and the books are really hard to put down once you start reading them. I devoured the entire series in a little less than two months. Continue the series with International Flavor.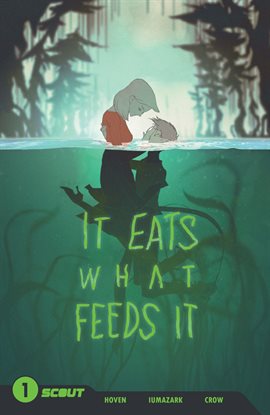 If you're looking for a chilling tale with a great sense of atmosphere, then It Eats What Feeds It might be right up your alley. Gorgeous, middle-aged Francois has developed a worsening affliction and seeks a young caretaker to assist her in the upkeep of her lavish Creole mansion, hidden deep in the bayou of Louisiana. She eventually gives the job to Kenny, a dumb teen looking for a summer job. And what's not to like about this position? Free rent, free meals, high pay, easy work, and a drop-dead-gorgeous boss? Well, there is the blood-covered kitchen that's filled with raw meat…and of course, the steel-plated attic door that Kenny is forbidden to touch. But, surely there's nothing to be worried about…
With beautiful artwork and a deliciously muted color scene, this is a real chiller that's sure to keep readers on edge until the end.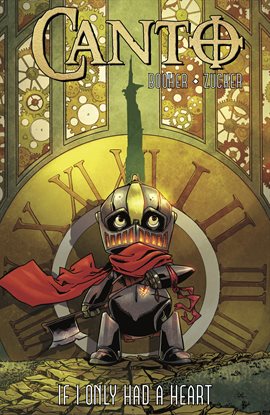 Canto's people once had hearts. This was long before they were enslaved, generations ago, and had their hearts replaced with mechanical clocks instead. They are forbidden to love, but Canto has fallen in love with a little tin girl. When her clock is irreparably broken by a cruel slaver, Canto embarks on an incredible journey through strange and fantastic worlds in order to save her. This sweetly sad little book series is beautifully illustrated and makes great use not only of colors, but of expressions, as our little tin heroes have to convey all their emotions with just their eyes.
This is the first book in the series, followed by The Hollow Men and Lionhearted. Lionhearted just came out this year, and your librarian is not entirely certain if this is the end of the series or not, but there appears to be a fourth collection in the works (fingers crossed!).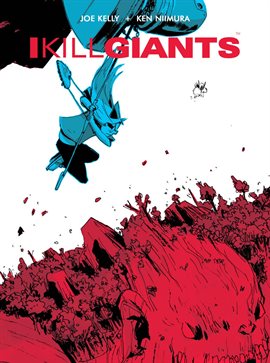 Oh my goodness…I have so much I could say about I Kill Giants. This book is an emotional gut-punch, and easily my favorite title on the list! Barb Thorson is a troubled child. Not only is she constantly picking fights with other students and even teachers, but she claims to be a giant killer. As the story slowly pieces itself together, we're presented with a complex tale where the reader is never quite sure what is true and what is in the realm of fantasy. This much we do know: Barb claims that giants are real. She says that they are stupid and evil, but they can be stopped. The only exceptions are the titans, ancient beasts from the dawn of time that disappeared millennia ago. We also know that there is something upstairs in Barb's house. Something horrible and nightmarish. Something that Barb refuses to talk about and must avoid at all costs.
This powerful tale addresses grief, mental illness, imagination, and the powers of magic. It's a beautiful, bittersweet story that makes me cry every time I read it. I cannot recommend it enough!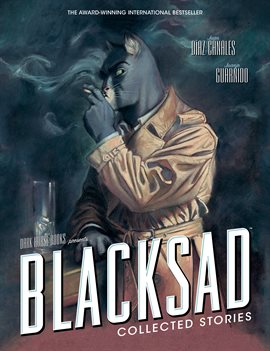 This is a gritty noir series with a twist: all the characters are anthropomorphic animals. But, don't let the fuzzy exteriors fool you. These are not fluffy children's books. These intense tales of disappearances and even gruesome murders are great for fans of 1950s detective fiction. John Blacksad is a private eye, a black cat detective who is on the hunt for the murderer of world-famous actress, Natalia Wilford. Blacksad has not seen Natalia in years, not since their bitter breakup many years before. But, regardless of how things ended between them, Blacksad is determined to find Natalia's killer and bring them to justice.
This is of course just one of many of the gripping adventures readers will find in this book, which collections volumes 1-7 of the comic.