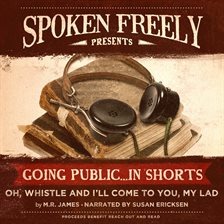 This month, we're going to look at a scary short story, instead of a full-length novel. This chilling little tale will not be a very long read (or listen, if you prefer the audiobook), but it will certainly be just enough to provide some much-needed thrills and chills around Halloween. This is one of my favorite scary short stories to indulge in whenever I'm looking for something to give me a bit of a fright.
Classic of the Month
"Oh Whistle and I'll Come to You, My Lad" (1904), by M.R. James
Opening Words
"I suppose you will be getting away pretty soon, now Full term is over, Professor," said a person not in the story to the Professor of Ontography, soon after they had sat down next to each other at a feast in the hospitable hall of St. James College.

"Oh Whistle and I'll Come to You, My Lad", M.R. James
What's it all About?
A stuffy professor, who does not believe in anything supernatural, plans a little getaway to a small coastal town. While he waits for his friend to join him, he spends his time playing golf and taking walks on the beach. And it's during one of these walks that he discovers a small crevice in a rock, and within that crevice, a strange old whistle, caked with dirt and with some sort of inscription on the side. After cleaning it, he inexplicably decides to blow it, and while he cannot hear the sound it produces, it appears that something else could and did, and the professor discovers to his horror that he had attracted the attention of some kind of inhuman creature.
Read this if you enjoy…
Short stories
Supernatural horror
A moody atmosphere
Suspense
Interested? Check it out Here!
Final Thoughts
"Oh Whistle and I'll Come to You, My Lad" is a great example of a quick, scary, atmospheric ghost story, and one of my all-time favorites. As the days get shorter and colder, this is a great piece to pick up and while away the evening with. It's not incredibly long, and could probably be enjoyed in less than an hour, making it perfect for when you want to read something, but aren't looking to commit days upon days to it. More timid readers or those with weak stomachs do not have to worry, as the tale itself never gets too scary (and there is zero gore). While I would not recommend this to young readers, teens and possibly mature tweens might find this enjoyable as well.