A few days ago, I shared a list: Sherlock Holmes vs. the Vampire. Today, I wanted to look at Holmes' adventures against other monsters. Unless something squeaks by me, there shouldn't be any vampires on this list, but you'll have plenty of other creeps to read about. Holmes had so many adventures, not only the 60 stories written by Conan Doyle, but other adventures penned by generations of Holmes fans. The stories on this list are perfect for getting into the Halloween spirit, as each includes some sort of monster or villain–straight from a horror novel!
In my previous post, we got to see Sherlock Holmes match wits with the immortal vampire king, Count Dracula. In this adventure (also by Loren Estleman), it's the master detective against the deadly duo of Henry Jekyll and Edward Hyde. Holmes had already had an encounter with the evil young hedonist, Edward Hyde. He even knew that there was some sort of connection between this brute and the respectable young doctor, Henry Jekyll. But, Holmes was not officially involved in the case until the Queen herself requested that he discover the truth behind the murder of Sir Danvers Carew–the darkest case in the detective's entire career!
While Robert Louis Stevenson penned his immortal classic, The Strange Case of Dr. Jekyll and Mr. Hyde as a work of fiction, this story is actually true–and Sherlock Holmes will reveal the full account!
Perhaps this one is cheating a little, as our detective is not Sherlock Holmes, but Warlock Holmes. Imagine the classic tales of mystery, but instead of having the hero be the world's greatest detective and one of the most brilliant minds of his generation, he's actually an incredibly stupid spell-caster who only eats toast and soup. This is the first of an ongoing series of short story collections, retelling all of Holmes' best adventures–with a supernatural twist. I suppose I also could have put this title on my list of Holmes vampire mysteries, as Denning's vision of Inspector Lestrade is a nihilistic vampire! In addition to the bloodsucker, you'll also find a hulking ogre, a suspected robot, a soul-binder, and more!
The adventures continue in The Hell-Hound of the Baskervilles.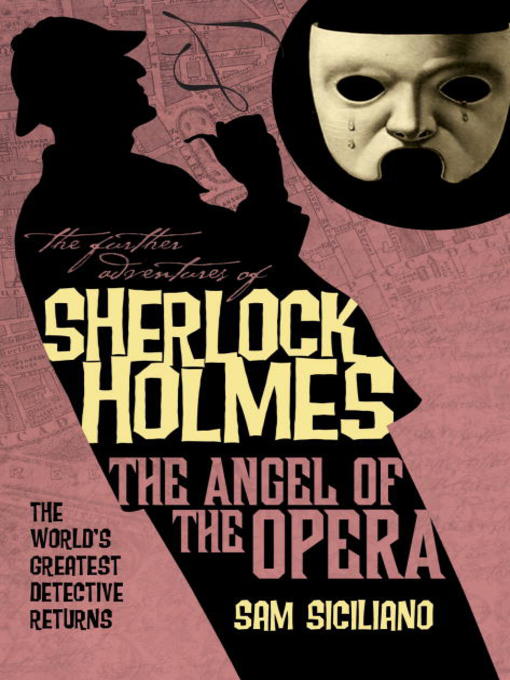 In a twist on the Sherlock Holmes adaptation, this book is not narrated by the ever-present Dr. Watson, but by Holmes' cousin, Henry Vernier, M.D., who joins him on an adventure to Paris. The managers of the famous Paris Opera House have requested Holmes' help with a sticky sort of problem: they apparently have a ghost. Of course, anyone who is familiar with the story of The Phantom of the Opera knows that there is much more to this ghost story than a simple spook, and Holmes and Vernier find themselves caught up in a very dangerous game, as they go toe-to-toe with the opera ghost himself. While the work certainly takes some liberties with the source material, it's a thrilling adventure that Holmes and Phantom fans are sure to love.
Combining classic Holmes adventures with Lovecraftian mythos, this chilling tale has Holmes and Watson facing off against a supernatural horror from beyond the limits of human understanding. Our unnamed narrator (presumed to be Watson) moves in with a new roommate (presumed to be Holmes) following a bloody war and subsequent injury in Afghanistan. When a strange and gruesome murder is discovered, our narrator's roommate is called into action, and the pair is summoned before the queen–one of the conquering race of cosmic terrors who invaded earth 700 years before. Will our intrepid pair be able to discover who the murderer is and why? Fans of Neil Gaiman, H.P. Lovecraft, and of course Sherlock Holmes will find much to enjoy in this chilling short story.
There is also an audiobook production, narrated by the author, as well as a graphic novel.
If that last selection left you lamenting that we didn't have more Lovecraftian-themed Sherlock adventures, then you're in luck! James Lovegrove wrote an entire series based around this most dangerous mash-up. Starting with The Shadwell Shadows, Holmes and Watson will experience a horror from beyond! The year is 1880 and Dr. John Watson has just returned from Afghanistan. Badly injured and doubting his sanity after a nightmarish expedition during his time in the military, Watson is close to destitution when he meets the extraordinary Sherlock Holmes. Together the pair investigates a most mysterious crime: several bodies have been found in the Shadwell district in London, to all appearances showing signs of having been starved over the course of several weeks. But, each identified victim had only been missing for a few days, and had been alive and well before that. As Holmes connects the deaths with a sinister drug lord, he and Watson are soon forced to accept that perhaps the truth is more horrifying than they ever could have imagined.
This is the first in a series. The terror continues in Sherlock Holmes and the Miskatonic Monstrosities.
Let's wrap up our list with a quick anthology. The titles included in Nick Rennison's collection of stories all feature some element of the supernatural. A ghost of a poor Afghan returns to haunt the doctor who amputated his hand. A man who desecrates an Indian temple is transformed into a ravenous beast. A mysterious force inhabits an ancestral home and attacks all those who sleep in a certain room. While Sherlock is not the main detective in these cases, Conan Doyle does have a story included– "The Brown Hand". Featuring the talents of authors such as Rudyard Kipling, H.P. Lovecraft, and William Hope Hodgson, consider this "bonus" collection of chilling stories a fun way to wrap up your Halloween reading…with a couple of juicy supernatural mysteries!