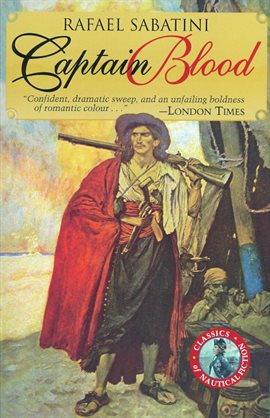 Welcome to our latest installment of The Classic of the Month. This month, we're looking at one of my all-time favorite tales of swashbuckling adventure, romance, and revenge. This book has spawned two sequels and has been made into multiple films, including a truly excellent one starring Errol Flynn and Olivia de Havilland. So, without further ado, allow me to introduce this month's classic!
Book of the Month
Captain Blood (1922) by Rafael Sabatini
Opening Words
Peter Blood, bachelor of medicine and several other things besides, smoked a pipe and tended the geraniums boxed on the sill of his window above Water Lane in the town of Bridgewater.

Sternly disapproving eyes considered him from a window opposite, but went disregarded. Mr. Blood's attention was divided between his task and the stream of humanity in the narrow street below; a stream which poured for the second time that day towards Castle Field, where earlier in the afternoon, Ferguson, the Duke's chaplain, had preached a sermon containing more treason than divinity.

Captain Blood, Rafael Sabatini
What's it all About?
Captain Blood is set during the Monmouth Rebellion, which was an attempt to overthrow King James II of England. Peter Blood is a physician who, before settling down in the town of Bridgewater, has also worked for a time as a solider and a sailor, under the Dutch Admiral, De Ruyter. Having had his fill of war, Blood has purposely stayed clear of the rebellion going on around him. However, when he receives news that there are injured rebels in need of medical help, Blood cannot ignore his conscience, nor his duty as a physician, and tends to them. But, when the rebels are captured (and Blood with them), the judge refuses to listen to Blood's protests that he had nothing to do with the rebellion, and was only acting upon his duties as a doctor. When the rest of the rebels are condemned to a life of hard labor as slaves in Barbados, Blood is shipped off and sold along with them.
While being auctioned off at the Barbadian slave market, Blood catches the eye of Arabella Bishop, the niece of the colony's cruel governor, who convinces her uncle to purchase him. The naïve Arabella is confused and frustrated that Blood does not appear grateful for her intervention, even when her uncle hires him out as a physician to the island's landowners (thus saving him from the backbreaking work in the fields). When Spanish pirates attack the colonies, Blood and his fellow slaves stage an attack of their own, stealing a Spanish ship and making for sea, where Blood goes on to become one of the most feared pirates of his day. However, much to Blood's distress, the beautiful Arabella Bishop, a cruel reminder of his former captivity, is never far from his thoughts…
Read this if you enjoy…
Swashbuckling adventure stories
Historical fiction
A bit of romance
Pirates
Interested? Check it out Here!
Final Thoughts
Captain Blood is a rollicking good adventure story full of drama, suspense, and a delicious bit of romance. While it never gets too graphic, this is best recommended for older teen and adult readers, as there is some violence, including a description of someone getting flogged. This tale of piracy is easily one of my favorites in the genre, and is a lot of fun, to boot. If you're looking to continue the series, the two sequels (Captain Blood Returns and The Fortunes of Captain Blood) are not available in our collection, but can be requested through SearchOhio or downloaded from Project Gutenberg. If nothing else, I highly recommend the Errol Flynn movie, which was not only a delight to watch, but one of those rare films that actually remains fairly faithful to the source material (even if there were some deviations).