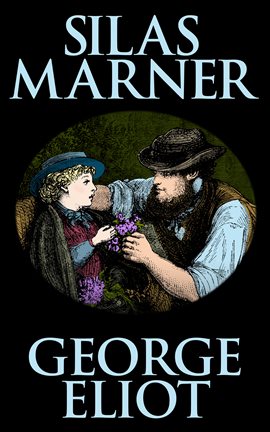 Welcome to our second installment of The Classic of the Month! Last month, we looked at the perennially popular Pride and Prejudice. This month, we'll be exploring a slightly less well-known title, about a reclusive miser who is bitterly betrayed, but who learns to open his heart again through the love of a child.
Book of the Month
Silas Marner: The Weaver of Raveloe (1861) by George Eliot
Opening Words
In the days when the spinning-wheels hummed busily in the farmhouses—and even great ladies, clothed in silk and thread-lace, had their toy spinning-wheels of polished oak—there might be seen in districts far away among the lanes, or deep in the bosom of the hills, certain pallid undersized men, who, by the side of the brawny country-folk, looked like the remnants of a disinherited race.The shepherd's dog barked fiercely when one of these alien-looking men appeared on the upland, dark against the early winter sunset; for what dog likes a figure bent under a heavy bag?—and these pale men rarely stirred abroad without that mysterious burden.

Silas Marner, George Eliot
What's it all About?
Silas Marner is the story of a reclusive weaver who has lived outside of the town of Raveloe for years–ever since a devastating betrayal rocked his faith in humanity. None of the townsfolks know much about Marner–he keeps to himself, rarely coming to town, even to spend the money that he has amassed. And there are rumors that he has great riches hidden somewhere in his home. Drowning in his own solitude, Marner lives only for his gold, which has become his constant companion and greatest treasure. But, when the gold is stolen from him one night and replaced with something infinitely more precious, tragedy instead turns to hope and a chance for his redemption.
Read this is you Enjoy…
Stories of redemption
Curmudgeons with a heart of gold
A bit of mystery
Heartwarming, deeply moving stories with complex characters.
Final Thoughts
Silas Marner is a small book packed with a lot of heart. This powerful tale of betrayal, heartbreak, and ultimate redemption has resonated with reader for generations. While the book is small (my copy is about 190 pages), it has a methodical, meandering pace and is certainly not a book that you'll be able to speed-read, but something you should savor slowly. Some readers might be turned-off by the sentimental nature of the story, but at its core, it's a sweet, gentle tale of faith restored and found-family. Whether you enjoyed reading the book or would rather watch it, there is a BBC production from 1985 starring Sir Ben Kingsley in the title role. It was quite good. I hope that you will enjoy reading or watching Silas Marner!