Today is February 22, 2022. It is also Tuesday. Which means, today is an excellent day for anyone whose favorite number is two, as it's two-two-two-two-two-two…you get the idea. So, two-day (ha) we're going to look at twenty-two titles that feature doubles of some sort. They could be books about two friends, a series that's made up of only two books, the word "two" in the title, a coming together of two worlds, etc. Twenty-two books on a variety of doubles, twins, and pairs.
Two Companions—
Think teammates, traveling buddies, siblings, etc.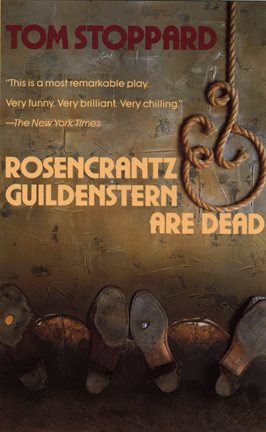 (1) Rosencrantz and Guildenstern are Dead (Tom Stoppard) Stoppard's play takes the classic tale of Hamlet and turns it on its head. Instead of the telling the tale of a (possibly) mad prince and his revenge plot, the play looks at two of the most minor characters in Shakespeare's writings, and make them the hapless heroes of their story. For double the fun, there's also an excellent movie starring Gary Oldman and Tim Roth.
(2) The Color of Magic (Terry Pratchett) Rincewind, a cowardly wizard is coerced into playing tour-guide to Twoflower–the world's first tourist. The pair goes on a series of increasingly dangerous adventures, and the naïve Twoflower believes that it's a delightful adventure, completely missing the constant threats Rincewind has to save him from.
(3) Baker Street Letters (Michael Robertson) Two brothers have their law offices at the infamous 221B Baker Street. And as part of their lease, they are required to accept, file, and respond (by form letter only) to all the notes that come in addressed to the fictional Sherlock Holmes. Under no circumstances should they ever try to deviate from this formula. But, when younger brother Nigel decides to not only read one of the letters, but to travel to America in order to help the writer and elder brother Reggie finds a dead body in the office, the two lawyers just might have to channel the famous detective in order to survive with their careers intact.
(4) Lone Wolf and Cub (Kazuo Koike) This powerful samurai tale (which ranges to over 7,000 pages for the entire series!) tells the story of a disgraced samurai who travels around Edo-era Japan with his infant son, as a sword for hire.
(5) Jacob Have I Loved (Katherine Paterson) Twin sisters Louise and Caroline are locked in a bitter sibling rivalry, as Louise becomes increasingly jealous of the preferential treatment the beloved Caroline receives from family, friends, and neighbors in their small fishing village. This Newbery Award-winner is a powerful coming of age story.
Duology—
A series with only two books in it
(6) Cannery Row and Sweet Thursday (John Steinbeck) These two books compose a duology (series of two books) about a small neighborhood in California during the depression. The inhabitants of Cannery Row range from layabouts and prostitutes to immigrants and biologists. These two collections have a rather leisurely-paced, dreamlike feel and were some of my favorite books as a student.
(7) School of Horns (Mito Aoi) In this short manga series, the size of your horns determines the amount of magical power that you have. Eru is a student at a magic school, but his pathetically small horns betray his minimal magic skills. When he meets his new roommate, Rihito, it's hate at first sight–but will Eru be able to prove himself to both Rihito and the rest of the school?
(8) Charlie and the Chocolate Factory and Charlie and the Great Glass Elevator (Roald Dahl) Charlie Bucket is a poor boy living with his family in a cramped little room when he wins one of the biggest contests of all time: a chance to tour the reclusive Willy Wonka's chocolate factory.
(9) Dear Committee Members and The Shakespeare Requirement (Julie Schumacher) Jason Fitger is a bitter, burned-out English professor who only slightly deserves the crap coming his way. In Dear Committee Members, Jason shares his story inadvertently through a series of increasingly desperate letters of recommendation for the students in the underfunded English department at a small liberal arts college. In The Shakespeare Requirement, Jason's problems only continue as he struggles through his position as the newly appointed head of the English department–a position he in no way wanted.
Two in the Title—
Need I say more?
(10) The Man With Two Left Feet (PG Wodehouse) This collection of short stories is from the early writings of PG Wodehouse, and includes a series of laugh-out-loud tales about a variety of characters, including the famous duo of Bertie and Jeeves.
(11) A Tale of Two Cities (Charles Dickens) Dickens classic tale of the French Revolution's Reign of Terror is a powerful story of bravery and one of the best-selling novels of all time.
(12) Tacos for Two (Betsy St. Amant) Rory Perez is a food truck owner who can't actually cook and is struggling to keep her business afloat. If she doesn't do something soon, she'll be out of a job. Jude Strong works at a law firm, but his real passion is cooking. If he doesn't do something and soon, he'll be stuck working for his manipulative father for the rest of his career. When the two discover that the upcoming food truck festival has a contest, it turns out that winning could be the answer to all their problems. But, Rory's chef gets mono and she's stuck cooking herself. And Jude discovers that his biggest competition is the cutie he's been flirting with online for the past month. Will the pair be able to put the competition aside and sacrifice it all for the sake of love?
(13) Two Sisters (Mary Hogan) Muriel has always felt out of place, as the unwanted third child living in the shadow of her beautiful sister, Pia. But, when Pia shows up on Muriel's doorstep with a devastating secret that she cannot share with anyone, Muriel is forced to confront her family and her past in a new light.
Antagonists—
Tensions are mounting between these pairs!
(14) Saints Vs. Scoundrels: Debating Life's Greatest Questions (Benjamin Wiker) Some evenings, Benjamin Wiker gets guests. But, these guests are not what you'd expect. Sometimes, they just pop into his study, out of thin air. And each time, they come in pairs, one historical saint (such as St. Francis of Assisi) and one historical "scoundrel" of a competing philosophy (such as Niccolò Machiavelli). The two debate philosophy on the topics that were of the most importance to both of them. If you've ever wondered what two historical figures would be like if they met in real life, then look no further than this book!
(15) Death Note (Tsugumi Oba & Takeshi Obata) It's a game of cat and mouse–world's greatest detective against the worlds greatest criminal. Light Yagami, a high school student discovers a notebook that allows him to kill someone by writing their name down. He decides to use his newfound power in order to create a new world order in his image. But, the string of heart-attacks striking down criminals draws the attention of the world's greatest detective, the mysterious L, who quickly discovers Light's secret, but needs to find a way to prove it.
(16) Angel of the Opera (Sam Siciliano) Pairing up literature's greatest detective against one of its most complex madmen, this book showcases a "forgotten" adventure of Holmes's that was not recorded by Watson, where the detective must discover the secret of the Opera Ghost tormenting the Paris Opera House.
Two Identities—
Disguises, new names, and mistaken identities
(17) Dr. Jekyll and Mr. Hyde (Robert Louis Stevenson) A doctor attempts to separate the good and evil from within his heart and ends up creating a monster when his evil half becomes free.
(18) The Count of Monte Cristo (Alexandre Dumas) After a life-altering betrayal and a deadly prison escape, the once kind, generous, and naive Edmond Dantes transforms himself into the Count of Monte Cristo, a coldly calculating figure bent on revenge against those who wronged him.
(19) The Prince and the Pauper (Mark Twain) Two young boys, one the son of a king and the other a poor beggar, decide to change places, pretending to be each other. But, what starts off as an amusing joke soon becomes increasingly complicated and even dangerous, when the King dies, and pauper Tom is now next in line for the crown.
Two Worlds—
Far from home, traveling through time and space
(20) The Water Dragon's Bride (Rei Toma) Asahi goes from present-day to feudal Japan in the blink of an eye when she falls into the pond in her family's yard. Rejected and feared by the people because of her red hair and grey eyes, she's sacrificed to the local deity, the Water Dragon god as his bride. But, instead of letting her drown like the previous sacrifices, the Water Dragon decides to spare Asahi, stealing her voice and returning her to the surface and the villagers who rejected her.
(21) Alice's Adventures in Wonderland (Lewis Carroll) When Alice follows a white rabbit down into its hole, she finds herself in the magical world of Wonderland, where nothing is as it seems.
(22) Lore Olympus (Rachel Smythe) Hades and Persephone come from completely different worlds. For Hades, that's the deeply unsatisfying world of the nightlife of the gods in Olympus, full of betrayal, shallow parties, and even shallower relationships. Young, naïve Persephone's world is completely rocked when she comes to Olympus and the two are thrown together for the first time.