In this series of posts, we are focusing on contributions from African American artists to the world of film. We're going through the decades to highlight everything from the early pioneers up through contemporary artists – all available to you for free with a WPPL card. Some films are physically in the collection (DVD/Blu-ray) and some are available to stream instantly on Kanopy.
Body and Soul (1925)
Every discussion of African American film history has to start with Oscar Micheaux. His film career started in 1918 and by 1948 he had produced 38 films, written 39 and directed 42. Body and Soul was even adapted from Micheaux's own novel of the same name. In addition to being an early work of an African American writer-producer-director, this film is also noteworthy as it's the film debut of another multi-hyphenate artist, Paul Robeson (singer-actor-athlete-lawyer-activist). Body and Soul follows the exploits of an escaped prisoner who seeks refuge in the town of Tatesville, Georgia by passing himself off as a Reverend. He is joined in town by a fellow criminal, and the pair scheme to swindle the phony reverend's congregation of their offerings.
Uncle Tom's Cabin (1927)
Harriet Beecher Stowe's famous novelization of the harsh realities of slavery was a catalyst for the anti-slavery movement and remains a landmark in American literature. Conceived as a super production, this 1927 adaptation of Stowe's famous book cost $1.8 million and took two years to film. As seen today, the sincerity of director Harry Pollard's elaborately produced drama outweighs the conventions of its story. All told, this "lost" production remains a fascinating cinematic bridge between the 19th-century theatrical tradition and the new freedom of the feature film.
The Scar of Shame (1929)
An educated, affluent young black musician marries a woman from a lower socioeconomic class to get her out of the clutches of her stepfather, who beats and abuses her. However, once they are married, he won't let his new wife meet his mother, as he knows she will be angry and disappointed with him for marrying someone "below his station". This film was produced by the Colored Players Film Corporation of Philadelphia, in one of the early examples of 'race movies'. In 1929, this meant that an entirely black cast performed a feature film that was specifically marketed and release into theaters for a black audience.
The Girl from Chicago (1932)
Here is another Oscar Micheaux production (see the first entry on this list). In this film, we follow an undercover government agent on a case in Mississippi. He meets and falls in love with a beautiful young woman who's being menaced by a local crime boss. He rescues the woman and they leave Mississippi for Harlem, but their troubles follow them as they become involved in the murder of a local crime boss there.
The Duke is Tops (1938)
One of the films produced by Million Dollar Productions, a company set up to produce films with all African-American casts. Co-founder Ralph Cooper not only stars in this film, but he was also the production manager, co-writer and co-director. It's also the feature film debut of Lena Horne (see the next film on this list). Here, Cooper plays a theatrical producer who puts aside his own success to boost the career of a talented singer, played by Horne.
Stormy Weather (1943)
This film is a perfect example of a 1940's Hollywood musical. The stars, Lena Horne and Bill Robinson, play versions of themselves and the supporting cast is a who's who of performers of the day. The story is a fictional version of Bill Robinson's life and this allows for a parade of performers to showcase their musical talents. Cab Calloway, Fats Waller, Ada Brown and Katherine Dunham are just some of the performers. However, the stand-out scene in this musical belongs to the Nicholas Brothers and their acrobatic, tap dance sequence set to Cab Callaway and his Orchestra's rousing rendition of "Jumpin' Jive". Fred Astaire called their performance "the greatest movie musical number I've ever seen".
The Negro Soldier (1944)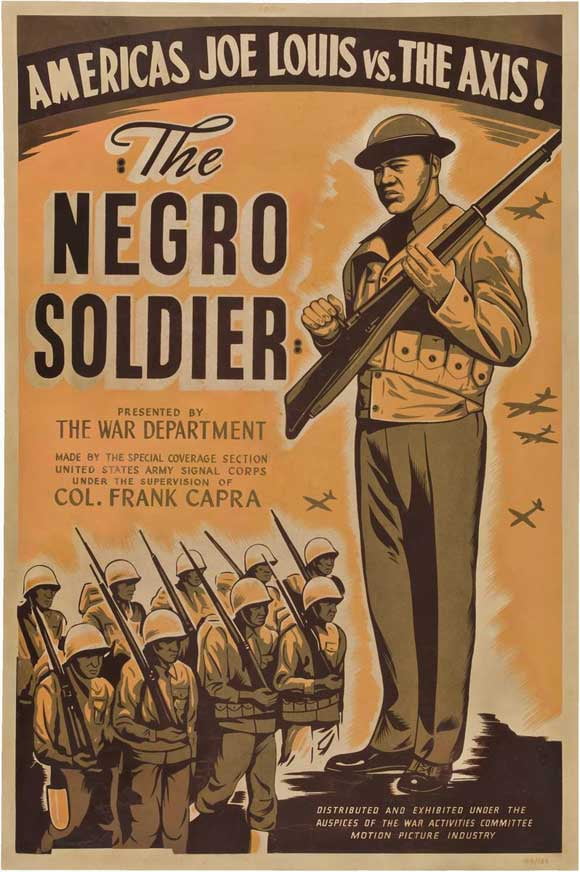 Even though the terminology is wildly out of date, this film was praised by folks like Richard Wright and Langston Hughes for telling the African American side of the WWII soldier and for providing visual proof of racial equality. While this is a 40-minute propaganda film produced by the War Department (it is a continuation of the Why We Fight series), it has significance in film history as it was shown all around the United States and contributed to an image change for African Americans. Unlike the major studios at the time, this film showed African-Americans as lawyers, musicians and athletes. The film was selected by the Library of Congress to be preserved in the National Film Registry in 2011.
Dirty Gertie from Harlem U.S.A. (1946)
Francine Everett lights up the screen with charisma and a seductive charm as the femme fatal Gertie La Rue. She arrives at an all-black Caribbean island resort after two-timing her Harlem lover, well, one too many times. As Gertie amuses herself by dazzling the local men with her sex appeal, the sanctimonious Mr. Christian schemes to either reform her or have her thrown off the island. On opening night, her sensuous performance exceeds Mr. Christian's worst fears…but more serious trouble awaits. This film was directed by Spencer Williams, best known as Andy on TV's The Amos 'n' Andy Show.
No Way Out (1950)
In 1950, we get the debut film performance from Sidney Poitier; and what a performance it is! Poitier plays Dr. Luther Brooks who is working at the prison ward of the county hospital. One night, two racist brothers are admitted with injuries from a gas station robbery gone wrong and Dr. Brooks tends to their wounds. When one dies from his wounds, the surviving brothers' racism only intensifies as does the tension all around the hospital. Keep a close eye out for a brief, uncredited cameo from Cleveland-born Ruby Dee, a lifelong friend of Poitier's.
Carmen Jones (1954)
Speaking of Cleveland-born actors, Dorothy Dandridge stars with Harry Belafonte in is this 1954 musical based on the classic Georges Bizet opera. In this updated musical by Oscar Hammerstein Jr., the characters change from 19th century Spaniards to World War II-era African-Americans on a Southern military base. Dandridge's performance earned her an Academy Award nomination.
The Defiant Ones (1958)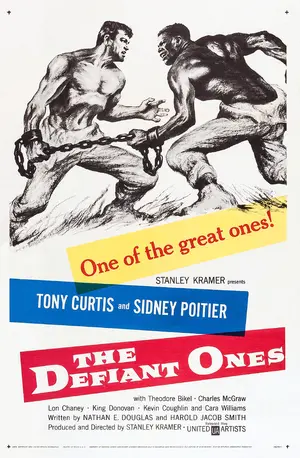 Closing out the 1950's, we've got one more Sidney Poitier film. In this one, Poitier co-stars with Tony Curtis in a story of two escaped convicts who must work together because they are chained to each other. Like many early Poitier films, there is an overt social message to this film that is only heighted by two superb actors that bring their A-game to every single scene.