I really enjoy reading graphic novel memoirs. Not only do you get to learn about a person's history and life story, but you get an added visual layer of how they "see" the world and how they interpret it. One of my favorites in this genre is Huda Fahmy. Every time I find a new book by this author, I get so excited! Fahmy writes about her experiences as a Muslim-American woman, wearing the hijab, and even the world of dating and marriage. Her illustrations are super-cute, the stories are earnest and full of heart, and you'll definitely want to read more.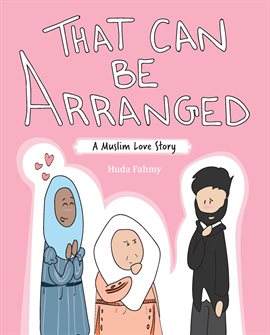 I was first drawn to Huda's work while searching Hoopla for something to read. I knew I wanted a comic or graphic novel, but didn't know what. And when I found That Can Be Arranged, I just knew that I had stumbled upon something special. The phrase "arranged marriage" is often used interchangeably with "forced marriage," but as Fahmy makes very clear in this adorable romance memoir, the two are not the same. In this book, she shares the sweet story of how she met her husband, with all the details of what it's like to date as a practicing Muslim (Apparently, it's surprisingly like a Jane Austen novel!) The book is a quick, fun read, the illustrations are cute and often quite funny, and the story is very relatable to anyone who has ever worried about finding "the one".
Everyone has felt out of place sometimes. And there are always moments when we wish we were just part of the crowd. Fahmy has found through years of experience, that it's hard to blend in when you're the only one wearing a hijab. Yes, I'm Hot in This tackles the awkward situations that often come from standing out, the questions Fahmy has been asked, and the desire to just feel normal in your own skin. This book provides the unique experiences of a Muslim-American woman, while answering all those questions you might have had, but knew better than to ask (Yes, she does have hair; she can run just fine in an abaya, thank you; and Yes, she's hot in this!). As with Fahmy's other books, this is a sweet, engaging, and eye-opening account of Fahmy's experiences and everyday life. And it's really about more than just the Muslim experience. It's about being a nerd, a pizza lover, and a socially awkward woman as well. Plus, it's a super-quick read for those of us who don't have time to sit down with a bigger book.
As I write this, Fahmy's newest book, Huda F Are You? is sitting next to me on the desk. I've been waiting for this book for over a month, and now that I've finally gotten my hands on it, I've only had time to read about three pages. My break cannot come fast enough! In this latest installment of Fahmy's quirky and hilarious memoirs, she talks about her family's decision to move to a more Muslim area. Instead of being the only girl in hijab at school, she now finds that she's one of many. And while in many ways it's nice to not stand out, Fahmy soon realizes that she no longer has the special identifier that made her different from all of her classmates. Now, the young girl must confront what makes Huda Huda, and what is her special niche in the school. It's a unique twist, as most of the time these sorts of growth stories go from being part of a homogenous group to being the odd-one-out. But, instead, Huda goes from standing out to completely blending in, and having no idea what to do with herself. This story of growing up, family, and fitting in is sure to resonate with readers of all faith traditions.