Oliver Twist is one of those classic novels that I always meant to read, but for some reason have not. The story of a young orphan who becomes mixed up in the wrong crowd, but eventually finds his place has captivated audiences for generations. The stories here cover a wide array of timelines and settings, with some featuring Oliver and his friends, while some are more abstract in their interpretation. Regardless of method, I hope that you find something to enjoy from the titles on this list.
First up on our list is Twist. Now, when I think "Oliver Twist adaptation," the first thing that comes to mind is most definitely not "heist thriller". But, that's exactly what this book is! Twist doesn't have much. No home, no money, no family, just a reputation as a daring street artist with some unique skills. But, when this eighteen-year-old finds himself on the run from the police, he finds that he's going to lose the only thing he still has left–his freedom. Then, he's saved by Dodge. And Dodge introduces him to the con-artist and "art collector" Cornelius Faginescu. And Twist realizes that this might finally be his chance to be part of something, as long as he's willing to quell those pesky voices inside and learn to steal. As Twist is drawn deeper and deeper into Dodge's gang, and as his feelings grow for the mysterious and dangerous "Red," he discovers a shocking secret. They are no longer playing for money. They are playing for their lives.
What if instead of being about an impoverished boy in 1800s London, Oliver Twist was about a young girl in a futuristic setting? If that sounds intriguing, then you might enjoy Olivia Twist: Honor Among Thieves. This female-centric, dark futuristic fable focuses on teenage orphan Olivia, who in order to save a boy she barely knows, joins The Esthers, a rag-tag girl group of thieves running free in a dangerous future. In a dark London of internment camps and strange technology, Olivia's life becomes increasingly complicated when she discovers that she has more power and wealth than she could have ever dreamed of, but as with anything else, it comes at a great cost. This book contains volumes 1-4 of the original comic publication.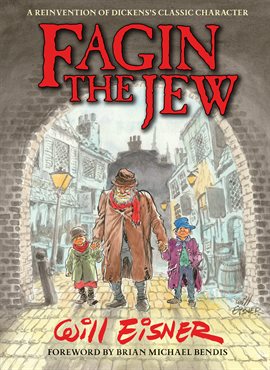 Comic legend Will Eisner brings new life to the character of Fagin, a villainous crook who takes in Oliver off the streets and teaches him the art of theft. A deeply sinister character of Dickensian literature, Eisner's Fagin is shown in all his depth and complexity, from an impoverished childhood in the London slums to his rise in the criminal underworld. Most powerfully, Eisner tackles the history and tragic anti-Semitism faced in everyday Jewish life in Dickensian London. Surprisingly, he even believed that Dickens did not intend to defame the Jewish people with his famous depiction of Fagin, but by doing so had perpetuated the common prejudice to such an extent that he imbedded the image into the public mind. In his award-winning style, Eisner recasts the notorious villain as a complex and troubled antihero and gives him the opportunity to tell his tale in his own words. Depicting Fagin's choices and actions within a historical context, Eisner captures the details of life in London's Ashkenazi community and brilliantly re-creates the social milieu of Dickensian England. Fagin the Jew is a powerful, and moving re-imagination of one of the greatest villains in literary history.
Seventeen-year-old Dodger is content with his life as a sewer scavenger. But, his whole world changes one stormy night when a young girl leaps from a carriage to escape her captors and he steps in to save her. He may be a street urchin, but he knows a jewel when he sees one. And Dodger decides then and there never to let anything happen to this girl, not even if her fate impacts some of the most powerful people in England. Dodger's adventures introduce him to a whole host of colorful characters, from the mad barber Sweeney Todd to the calculating Benjamin Disraeli to Charles Dickens himself. Terry Pratchett spins a fantastic historical account adventure that readers are sure to enjoy.