Today is JRR Tolkien's 130th birthday! In addition to creating the magical world of Middle Earth, including all the fearsome and friendly creatures that inhabit it, Tolkien has created many other fabulous and fantastical works that readers of all ages are sure to enjoy. To celebrate this amazing author's birthday, let's highlight some of our favorite Tolkien books!
Obviously no Tolkien list would be complete without including The Lord of the Rings. So, let's get started! We start with The Hobbit, a tale of Bilbo Baggins, a reluctant homebody who goes off on a grand adventure after a wizard and 13 dwarves show up on his doorstep. The adventure continues with Bilbo's nephew Frodo, in The Fellowship of the Ring. After being warned the ring his uncle has owned for decades might actually contain a very powerful evil, Frodo and his gardener, Sam, set out on a journey to destroy the ring by throwing it into the fires of Mount Doom. Interested readers can finish Frodo's adventures with The Two Towers and The Return of the King.
If you've managed to complete the entire Lord of the Rings series and are looking for something more, might I recommend The Silmarillion? This is often referred to as "the Tolkien Bible" and for good reason–Tolkien uses this book to outline the entire history of Middle Earth, from the First Age to the Third (which is where Lord of the Rings takes place). Remember all those names you heard about as you were reading Lord of the Rings? Also those references that were never fully explained? (I'm thinking in particular of "a balrog of Morgoth"…) well, this book explains all that and more! While you don't need to read the Silmarillion to enjoy Lord of the Rings, those who have read both say that it certainly enhances and deeply enriches the experience.
When I first started reading Tolkien as a teenager, I found many of his books a little too intimidating to pick up. But, I absolutely devoured Roverandom (which you can find in the Tolkien collection, Tales from the Perilous Realm). This little book (about 100 pages) tells the story of a small dog who gets turned into a toy (he never should have bitten the wizard's trousers!). In order to get back to the child who loves him, Rover must go on a wild adventure to find the wizard who cursed him and get his own form back. But, that will mean swimming the depths of the ocean and even flying to the moon in order to do so. The resulting adventure is a lot of fun and classic Tolkien magic!
One of the most beautiful love stories Tolkien created would have to be Beren and Luthien. The story is told in The Silmarillion, but fleshed out more in its own book. Beren and Luthien are deeply in love, but Beren is a mortal man and Luthien an immortal elf. When her father refuses the marriage, he submits on one condition, if Beren can complete an impossible task for him in return–capturing a Silmaril from the greatest evil in all of Middle Earth–Morgoth. If the forbidden love of a human and an elf sounds familiar, you might recognize a similar plot in the Lord of the Rings trilogy (although I won't go into any details here!). This version of the story is painstakingly researched and organized by Christopher Tolkien, JRR's son, who has done much editing of his father's work after his passing. Sadly, we also lost Christopher in January of 2020 at the ripe old age of 95.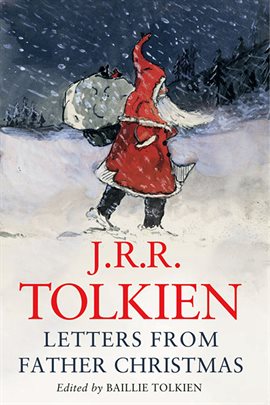 December 25th has passed, but for many, the Christmas season continues until the feast of the Epiphany, which falls on January 6th. Use this as an excuse to get a few more Christmas books under your belt, and check out Letters from Father Christmas. When Tolkien's children were little, he started writing them letters from Father Christmas, telling all kinds of fantastic stories, such as how the reindeer got loose and scattered presents everywhere, how a polar bear crashed through Father Christmas' roof, or even how Father Christmas accidentally broke the moon into pieces! This delightful Christmas tale is one that will appeal to readers of all ages, and is so delightfully charming that you'll find yourself wanting to read it again and again and again…