Films that celebrate the holidays in their own special way.
Sure, you can watch It's a Wonderful Life, A Christmas Story, and Elf for the 20th time…or you can get a little adventurous with your film watching this holiday season. On this list you'll find everything from forgotten silent films, gangster films, horror films, war films, indie dramas and documentaries.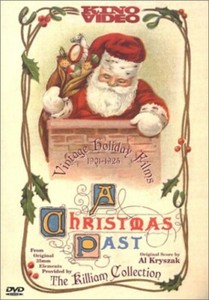 A Christmas Past: Vintage Holiday Films 1901-1925
Shortly after Thomas Nast created the modern look of Santa Claus in a cartoon published in Harper's Weekly the medium of film was invented. Within a few short years, directors like D.W. Griffith and Edwin S. Porter were making Santa films and adapting classic texts. This collection of nine short films from 1901-1925 contains early versions of A Christmas Carol and The Night Before Christmas. It also has a personal favorite, Santa Claus vs. Cupid – which is a real Christmas oddity.
Place a Hold / Stream on Kanopy
Larceny Inc. (1942)
If you had the chance to watch an Edward G. Robinson gangster film that features a climactic heist scene set on Christmas Eve, why would you pass that up? As opposed to other Robinson crime films like Scarlet Street or Key Largo, Larceny Inc. is more of a comedy that features gangsters as the main characters. That doesn't stop Robinson from showing up with his trademark cigar, the only difference this time is he's dressed as Father Christmas.
Stalag 17 (1959)
A war comedy is already an odd hybrid of genres, but this film also sets the whole story on Christmas Eve in a POW camp run by the Germans. The brilliant Billy Wilder (Sunset Boulevard, The Apartment and Some Like it Hot) directs this film, set in 1944 where four American POWs in Stalag 17 have to deal with a security leak. Someone keeps alerting the Germans to the various POW escape attempts.
Black Christmas (1974)
Nearly a decade before he directed the iconic (and a Cleveland favorite) A Christmas Story (1983), Bob Clark made a very different kind of Christmas film. Black Christmas is set in the college town of Bedford and focuses on the residents of the sorority house Pi Kappa Sigma. As the girls prepare for the holiday season, a stranger begins to stalk the house and its inhabitants, first with threatening phone calls and then with violence. This film is one of the earliest examples of a slasher film (it came out four years before the original Halloween) and has become a cult film in its own right.
Gremlins (1984)
If you'd like a Christmas film that has some scares and creature effects, but far less blood and violence than Black Christmas, then look no further than Joe Dante's 1984 classic Gremlins. This tale of an inventor/salesman who convinces a reluctant shopkeeper to sell him an adorable 'mogwai' as a Christmas gift for his son has enchanted generations of kids. Gremlins and chaos then erupt over the holiday and wreak havoc on the entire town.
Mixed Nuts (1994)
The comedy chops of the cast alone are enough to convince you to watch Mixed Nuts. Steve Martin, Madeline Khan, Rob Reiner, Adam Sandler, Parker Posey, John Stewart, Gary Shandling and Steven Wright all share the screen in Nora Ephron's (Sleepless in Seattle, Julie & Julia) comedy set over the holidays at a crisis hotline call center.
The Ref (1994)
Denis Leary's stand-up special No Cure For Cancer was released in 1993 and was a massive hit. So, it's not too surprising that a large portion of his successful stand-up comedy persona (confrontational, angry, ranting) made its way to the big screen with this holiday film. Leary plays a cat burglar who is inadvertently forced to take a dysfunctional family (Judy Davis & Kevin Spacey) hostage on Christmas eve. Comedy and an odd amount of family therapy ensue.
Go (1999)
In the late 1990s, ensemble films with overlapping stories were a trendy sub-genre, especially within the world of teen films. Empire Records, Can't Hardly Wait and Dazed & Confused are just a few examples. What makes Go a stand-out of this sub-genre is that this one is set over Christmas. In this story, grocery store clerk Simon occasionally sells drugs from his cash register at work, so when TV actors Adam and Zack come looking for ecstasy on a quiet Christmas Eve, they are surprised to find Ronna covering his shift. Desperate for rent money, Ronna decides to become an impromptu drug dealer, unaware that Adam and Zack are secretly working for a narcotics officer. In the mix are a trip to Vegas, a Christmas themed rave, and a mulit-level marketing scheme run by cops.
Reindeer Games (2000)
Director John Frankenheimer had a career full of great action and suspense films. Seven Days in May and Ronin are two of his most famous. This film isn't usually mentioned as one of his top-tier films, but if you want some over-the-top action and some scenery chewing scenes from great actors, this film will satisfy you. Ben Affleck plays Nick, who on his release from prison assumes his cellmate's identity and is quickly swept up into a Christmas Eve casino heist plot that goes violently wrong. If you are the type of person who watches Die Hard every December, you'll enjoy this one as a one off watch.
The Ice Harvest (2006)
Harold Ramis was best known for his comedy work in Ghostbusters and Groundhog Day. While those two are out and out comedy's, The Ice Harvest is a heist film with some comedy mixed in. John Cusack plays a mob lawyer who plans to steal $2 million from his boss on a dark and icy Christmas Eve. However, it seems everyone in town has plans of their own, and mayhem and hijinks unfold as an ice storm descends upon the city. The deft mix of double-crosses and comedy are a Harold Ramis specialty and are on full display in this one.
Joyeux Noel (2005)
In an odd way, this film might be the most traditional holiday film on this list. It helps that it's based on a true story of Christmas Eve during World War I. On that night, numerous sections of the Western Front called an informal, and unauthorized, truce where the various front-line soldiers of the conflict peacefully met each other in No Man's Land to share a precious pause in the carnage of the war and gain insights into each others humanity. [In French & German with English subtitles]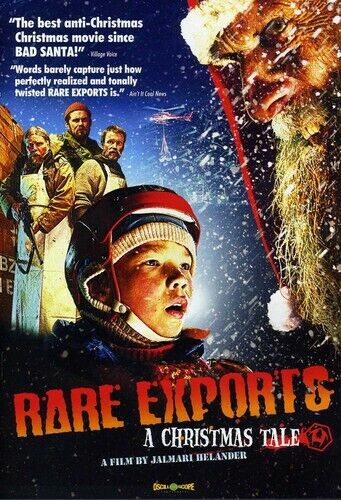 Rare Exports: A Christmas Tale (2010)
It's Christmas Eve in northern Finland and an archeological dig has just unearthed the real Santa Claus. But, this is no cause for celebration because this Santa isn't one you want coming to town. When local children begin disappearing, a son and his father capture Santa and attempt to sell him to the multinational corporation sponsoring the dig. As you can probably guess, all does not go according to plan, but the quick thinking son is able to save the day. [In Finnish with English subtitles]
Place a Hold / Stream on Kanopy
Director and Christmas music aficionado Mitchell Kezin delves into the surprisingly diverse world of Christmas music history. He does this by visiting with fellow music collectors as well as musicians like; Joseph Simmons (RUN-D.M.C.), Wayne Coyne (The Flaming Lips), Bob Dorough (composer & producer with Miles Davis), musicologist Dr. Demento, and Calypso legend The Mighty Sparrow. This documentary is perfect for family get-togethers as it is sure to trigger some nostalgia from folks of an older generation and have the younger ones furiously making a Spotify playlist.
Christmas, Again (2014)
If you've ever had that feeling of "great, another holiday season. I'm just not in the mood this year", then this film is for you. Charles Poekel wrote, produced and directed this ultra low-budget gem that follows a heartbroken young man named Noel who makes the trek to NYC to work the night shift selling Christmas trees. This is his fifth year working this job and as he slowly spirals into despair he realizes that the colorful characters around him just may help rescue him from self-destruction. The film was nominated for the John Cassavetes Award at the Independent Spirit Awards (films made for less than $500,000).
Getting to the Nutcracker (2014)
Seeing The Nutcracker performed live (or watching a version at home) is a Christmas tradition for many, many families. This year, before you watch it, make sure to watch Getting to the Nutcracker first and your traditional Nutcracker experience will be heightened. This documentary goes behind the curtain to show what it takes to stage this timeless ballet. It starts with auditions and follows the production right up through to the triumphant opening night performance.