Halloween is the perfect time to delve into a spooky mystery. These books are 100% mysteries, but have supernatural or horror elements to them to make them more than a little creepy. If you're looking for a mystery with a little extra bite, then these chilling titles might be just what you're looking for. And don't worry–none of these titles are too scary, so even the most timid reader won't have to sleep with the lights on.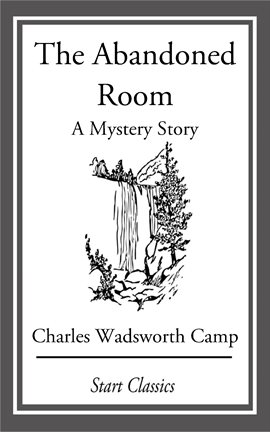 The Abandoned Room is one of my favorite spooky mysteries. In this chilling tale by Wadsworth Camp, young playboy Bobby Blackburn decides to spend a night on the town with some questionable company. But, while he starts off his evening in New York, he awakes hours later in the woods outside of the Cedars–his grandfather's estate. Bobby is missing his shoes, and has no idea how he ended up unconscious, hours from where he started. Worse than that, it's revealed that old Silas Blackburn, Bobby's grandfather, has been murdered in the night. And the old man was convinced that Bobby was going to make an attempt on his life, even going so far as to sleep in a disused room in the hopes of avoiding his would-be killer. And while he can't remember committing such a crime, Bobby does have motive–he was about to be written out of Silas's will. There was no love between the two of them, but surely that doesn't mean that Bobby was a killer…right?
Secret passages, disappearing corpses, and a mysterious, ghostly woman, this book is chockful of supernatural elements to keep readers on their toes. Who really killed Silas Blackburn? Was it a man? Or a ghost? I found this book to be immensely entertaining, and had a hard time putting it down until I was done!
A Puzzle for Fools is the first in the Peter Duluth mystery series. In it, our protagonist, Peter Duluth is in an sanitarium, attempting to get his alcoholism under control. But, his stay as far from relaxing. Instead, there's something decidedly strange going on. Multiple residents have started acting strangely, and when Peter hears his own voice calling out to him that "there will be murder," he begins to doubt his own sanity. It's obvious that there's a killer on the loose, and Peter and a few of his friends, including doctors and patients, try to figure out who is behind the grisly crimes. But, when it starts to look as though Iris Pattison, a female patient that Peter is sweet on might be the killer, then it's a race against time to prove her innocent before irreparable harm is done.
This was an incredibly juicy read and really hard to put down. The characters were well-written and interesting, the sense of suspense will keep you turning page after page, and I did not see the ending coming!
The Hound of the Baskervilles is a classic of the creepy mystery genre. After all, this isn't your garden-variety murder. You have people being stalked and killed by a murderous hound! Sherlock Holmes and Watson are on the case in this chilling tale of murder and a curse that spans generations. Sir Hugo Baskerville is founded murdered one night upon the moor. And as strange as it sounds, the culprit is supposedly a giant, demonic hound! When his descendent, Sir Henry Baskerville returns to England to inherit the family estate, it appears that he just might have the same horrible fate in store for him–that is, if Holmes and Watson can't help him. But, when the world's greatest detective is called back to London, Watson must discover the mystery on his own, and uncovers a whole host of strange and dangerous happenings, such as a mysterious crying woman, an escaped convict, and the deadly Grimpen Mire. This title is perhaps one of the most popular (and certainly the most famous) on this list. If you're interested in reading more, consider checking out another post I've written, which includes similar titles.