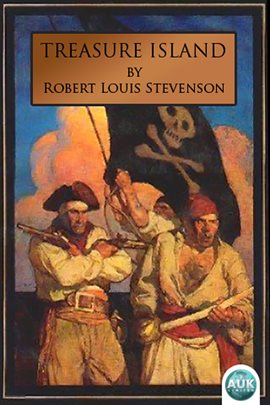 Few tales of adventure quite compare to Robert Louis Stevenson's classic swashbuckling story, Treasure Island. I was introduced to Long John Silver, Jim Hawkins, and Billy Bones as a child, and the infamous one-legged pirate became the standard for all the pirates my imagination could come up with. He was dangerous, but charming, complex and fascinating, and a terrifying threat. Long John Silver was not one to be taken lightly. However, he had been introduced to me through movies–I didn't actually read the book until I was nearly 30, but even so, the passage of time had done nothing to diminish him in my mind's eye.
Today, I'd like to look at books inspired by Treasure Island. Whether they're direct retellings or silly spin-offs, I hope you find something of the adventure and thrill of the original in your reading adventures.
We'll start, of course, with the original Treasure Island by Robert Louis Stevenson. Jim Hawkins and his mother own an inn, and after giving sanctum to an old sailor named Billy Bones, the pair come into the possession of a treasure map. However, there is a group of cutthroat pirates who want that map and will kill whoever they have to, be it an old pirate like Billy Bones or a young boy like Jim Hawkins, in order to get it. After receiving instructions to keep his eyes open for a "sea-faring man with one leg," Jim sets sail with some trusted adults (and one very untrustworthy cook!) to discover the island the the riches it supposedly hides. But, unbeknownst to Jim and his friends, Lon John Silver, the notorious pirate, is trying to get to the treasure first, and will do whatever he has to do in order to get it.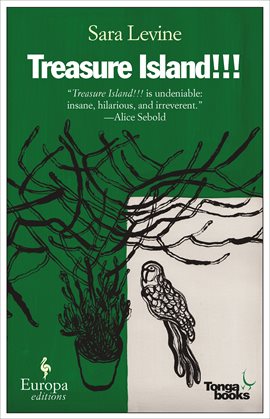 Have you ever felt inspired to live your life by a book? And I'm not necessarily talking about a religious text. I mean a novel. For example, I went out for coffee once with a friend and her cousin, to discuss a well-known and polarizing classic that will not be named here. Well, after I went on an English Major rant about how much I hated the book, the cousin quietly informed me (with no malice) that this was the book that had changed his life and made him who he was today. So, I suppose it's not entirely shocking to say that a book can help define who you are as a person. But, Sara Levine takes things to a far-reaching extreme in her novel Treasure Island!!!. In this quirky read, a young woman reads Treasure Island for the first time and realizes that her life has been so bland because she's living it wrong. She has never had an adventure, plotted a scheme, or done anything of real value. She has never raced across the beach, stolen a boat, and killed a man (although, to be fair, most of us haven't). In short, she's been wasting her life. Once she decides that Stevenson's book was meant for her specifically, she decides to change the course of her life in order to fit the message that the book is sending to her and to live by its core values of resolution, independence and horn-blowing. Accompanied by her mother, sister, an a parrot with a really bad attitude, our heroine is ready to change everything, thanks to this one book.
Our next book is actually a manga, written by one of my all-time favorite comic artists, Osamu Tezuka. New Treasure Island is a rollicking sea adventure about young Pete, the son of a sailor. When he finds a treasure map in his deceased father's belongings, Pete is eager to share the discovery with his friend, Captain. But, unfortunately, Captain has strong doubts about the map's validity. But, something magic happens in the night, and Pete, Captain, and the rest of the crew find themselves in the past, pursued by the devilish pirate, Boar, and his men. While obviously not a direct retelling of this classic swashbuckling tale, the story is a lot of fun and a great example of Tezuka's writing. Comic and manga fans who enjoyed this can find even more titles by this wonderful writer (both for children and adults) on ComicsPlus.
Also on ComicsPlus is another favorite comic series of mine (especially as a child). The Classics Illustrated books are a great way to introduce younger readers (I'd say 12 and older) to the classics. I used to read these all the time as a kid (gifts from my grandma who knew how much I love to read). I definitely credit these in part for my love of classic literature today! If you want to experience the high seas adventure, but don't have time for the entire book, consider checking out the Classic's Illustrated Treasure Island. This is a great way to introduce readers of all ages to one of the greatest adventures stories of all time! Once you're finished reading, check out the supplementary materials in the back of the book, to learn about the story, the author, and much more.