Books on brains get our attention! This, of course, is especially true in the area of Health and Wellness. Following is a list of six beneficial brain books that examine the relationship between the brain and nutrition. These titles offer plenty of advice on how to improve brain health, leading to better overall health.
In The Better Brain: Overcome Anxiety, Combat Depression, and Reduce ADHD and Stress with Nutrition, leading scientists Bonnie Kaplan, PhD and Julia Rucklidge, PhD teach us about the relationship between nutrition and mental Health. Find out how to feed your brain correctly to resist stress and other illnesses. Learn about the power of nutrients and discover recipes and meal plans to help you on your way to improving your overall health.
A psychiatrist/nutrition specialist gives us her take on the nutrition and mental health connection in This is Your Brain on Food: An Indispensable Guide to the Surprising Foods that Fight Depression, Anxiety, PTSD, OCD, ADHD, and more by Uma Naidoo, MD. Each chapter is devoted to a particular type of disorder, followed by helpful and unhelpful foods and nutrients for that type of condition. Also includes information on vitamins, minerals and recipes.
Brain Wash: Detox your mind for clearer thinking, deeper relationships, and lasting happiness by David Perlmutter, MD, and Austin Perlmutter, MD outlines the various forces from our modern life that work against brain health and gives us tools necessary to overcome these forces. Also includes recipes and meal plans. Author David Perlmutter is also the author of another Brain Book you may recognize – The Grain Brain.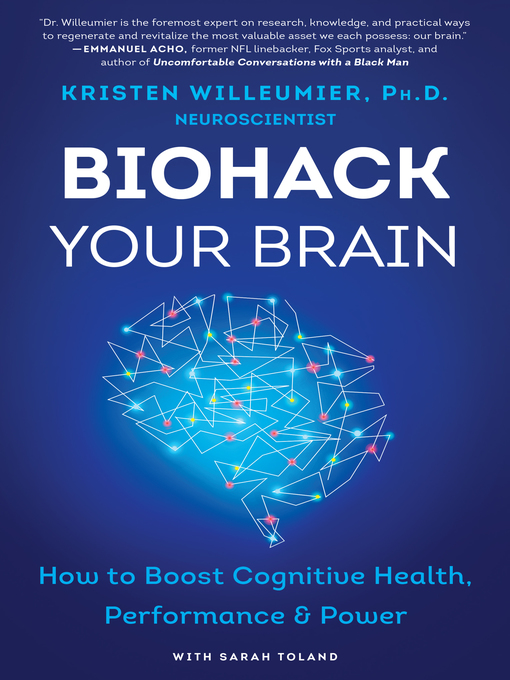 Biohack Your Brain: How to Boost Cognitive Health Performance and Power by Kristen Willeumier, Ph.D. teaches you how to change your brain by making simple and easy changes in your lifestyle. Learn how to improve your nutritional choices and effectively use supplements, brain games, and physical activity to improve your brain health and your overall health.
The Healthy Brain Book: An All-Ages Guide to a Calmer, Happier, Sharper you by internationally known family doctor William Sears, MD and neurologist Vincent Fortanasce, MD presents us with an ambitious plan for managing anxiety, depression, ADHD, and for preventing and reversing dementia and Alzheimer's. Learn how to improve memory, promote learning, prevent common brain issues, and more.
Brain Food: The Surprising Science of Eating for Cognitive Power by Lisa Mosconi, PhD. gives a detailed look at nutrition and brain health through "neuro-nutrition." She reviews the relationship between the brain and the food we eat by examining genetics, nutrition, and lifestyle. Also includes information on vitamins and minerals, and brain-boosting recipes.