Jane Eyre is a classic of high school reading lists across the country. I still remember the first time I was captivated by this blend of mystery, Gothic atmosphere, and romance. Jane is a poor orphan who has been mistreated by basically everyone she knows, from her cruel aunt and cousins to the abusive staff at Lowood boarding school. When she takes a job working for Edward Rochester (as a governess to his ward) it seems like her fortunes are finally turning around…until Jane realizes that she's falling in love with her gruff employer. The following titles are all based on the original Brönte novel, taking the basic premises of Jane Eyre, with their own creative spins.
Jane works as a dogwalker in the upper class neighborhood of Thornfield Estates. She's completely broke, does not like walking dogs, and is not actually named Jane. She makes the acquaintance of Eddie, the handsome (and rich!) owner of the biggest house in the neighborhood after he almost hits her with his car. It's an instant attraction, at least for Jane. And as she learns about Eddie's past, and how he lost his wife, Bea in a tragic boating accident, she starts to think that maybe she has a chance with him. But, Bea's memory haunts Jane. Will she be able to win Eddie's heart before her past (or his) catches up with them? The Wife Upstairs is a deliciously suspenseful and creative reimagining of Jane Eyre that is sure to leave readers at the edge of their seats.
Thursday Next is a literary detective. That means that most cases that come her way involve forgeries and theft of rare manuscripts. But, this time, it's something very different. A madman from her past, someone so dangerous that even speaking his name will draw his attention to you, has discovered a way to go into a book, and take things out of it again. After removing (and murdering) a minor character from a Dickens' novel, he has set his sights on a more valuable prey–Jane Eyre herself. And the problem is that by removing Jane from Brontë's original manuscript, every other copy of the book will be altered as well. Meaning that if Thursday can't figure out how to rescue Jane, the fate of one of the greatest works of literature will be bleaker than winter Thornfield Hall. The Eyre Affair is the first in an incredibly creative series that's sure to appeal to book lovers in general and lovers of the classics in particular.
Mr. Rochester makes his appearance in the life of Jane Eyre as the enigmatic, brash, complicated man with a dark secret in his past. But, in this touching and rich retelling by Sarah Shoemaker, we see Edward as a lonely little boy sent away to boarding school when he's eight years old. We watch as he learns that the home he loves at Thornfield Hall will never be his, as it goes to his brother, Rowland, while Edward is sent to Jamaica where he becomes entangled in a whirlwind love affair with the town's ravishing heiress, Antoinetta Bertha Mason. After a devastating betrayal, Edward must return to England with his increasingly unstable wife to take over as master of Thornfield. And it is there, on a twilight ride, that he meets the stubborn, plain, young governess who will teach him how to love again. While Shoemaker creates her own interpretation of the story, she still manages to remain fully faithful to Brönte's original vision, for a story that will deilght Mr. Rochester fans everywhere.
if Jane Eyre is Jane telling her own story, and Mr. Rochester focuses on Edward, then Wide Sargasso Sea is the story of Edward's doomed first marriage and his tragic first wife, Bertha. Readers are introduced to the world of Antoinette Cosway, a young socialite in Jamaica, sold into a marriage she does not want, to the prideful Mr. Rochester. While we know Antoinette only as the broken, pyromaniac in the attic, this story tell of a woman born into a society so skewed, with so little regard for women, that it could litereally drive someone completely out of her mind. This is Jean Rhys' last and bestselling work, a feminist tale giving voice to a woman who is reduced to a few references and the title "the madwoman in the attic".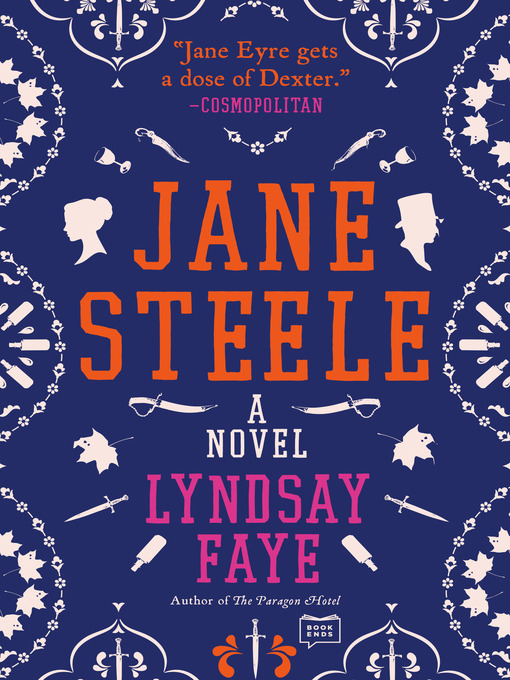 Reader, I murdered him. Jane Steele is not Jane Eyre, but she adores the book. And like Jane Eyre, Jane Steele also suffers at the hands of her cruel aunt and schoolmaster. But, unlike her literary heroine, when they call Jane Steele wicked, she fears it just might be true. And considering that she leaves the literal corpses of her tormenters in her wake, it probably is. Navigaging the seedier areas of London, Jane makes herself into something of a vigilante, "righting wrongs" and assisting the poor and repressed. But, when her aunt dies, she finds a new task to focus on. Highgate House, the family estate, has gone to a new owner, Mr. Thornfield. But, Jane suspects that the rightful heir just might be her. When Mr. Thornfield advertises for a governess, Jane takes the position, but is soon caught up in the household's strange spell. There are more secrets here than she could have ever imagined, including a strange and dark history between Mr. Thornfield, an army doctor returned from the Sikh Wars, and his Sikh butler, Mr. Sardar Singh. But, as Jane falls in love with Mr. Thornfield, she finds herself caught in a terrible dilemna: can she possess him, body, soul, and secrets, or will her own murderous past catch up with her first?