Back in December, I shared a reading challenge that I created for staff (and am now sharing with all of you!) Throughout the year, I'd like to include a list of blog posts that share suggested titles for some of the prompts.
The titles on this list all fit the prompt "A Book Where the Title Contains a Character's Name"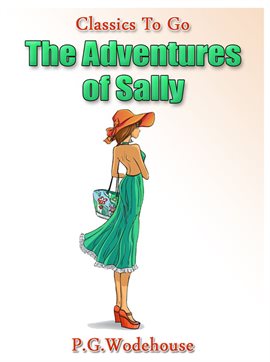 Sally would never have guessed that having a fortune could be a bad thing. That is, until she inherits one. Then, her life turns completely upside down. After attempting to back a play written by her fiancé and staring her brother, she finds herself in quite the pickle–especially when said fiancé abandons her, leaving a rather unattractive replacement in his wake. Since New York is becoming too much trouble for poor Sally, she figures a trip to England might make things better. But, as in any Wodehouse comedy, this change of scenery only makes things hilariously more complicated and much, much worse. The Adventures of Sally is classic Wodehouse, and since it's a stand-alone title, it works as a great introduction to the works of this master of British comedy.
Gwendy's Button Box is a fresh take on a time-worn trope: an unbelievable power is given to someone who clearly does not understand how to properly use it. In this case, that someone is young Gwendy; that something is a button box. Gwendy is twelve and overweight, so she spends the summer of 1974 running up the "Suicide Stairs," a set of rickety metal stairs running along the side of a cliff. At the top, she meets a mysterious man who gives her a very special box–one that contains a limitless power that can be used for good or for evil, depending on how the user handles it. Soon, Gwendy will learn the terrible price for such a power.
Miyax has always been a dutiful Inuit daughter who is very dedicated to her culture. But, after her family attempts to marry her off to an intolerable husband, she decides to escape. She runs away across the Alaskan wilderness in hopes of reaching San Francisco, to find her pen pal Amy (who calls Miyax "Julie"). Despite her survival skills, Miyax is completely unprepared for the journey, and its only through the interference of a pack of wolves (who slowly adopt her into their pack) that she is able to survive. This is a powerful, sad, and beautiful tale of a dying way of life, and a young girl's strength and will to survive. Julie of the Wolves is recommended for readers middle grade and up.
Casey Lee was a great fighter pilot during WWI. In fact, he was even hailed as a hero. But, now that the war is over and America is sinking into the Great Depression, the people no longer have time or interest for heroes like Casey. So when a tobacco company offers him a chance to be the hero once again (with a stunt that will involve him flying from Japan back to America) he's thrilled with the opportunity. But, soon after arriving in Japan, the deal falls through and he's stranded. Enter Mr. Moto, a mysterious Japanese man who offers Casey a similar deal– fly the same route for his company. But there's more to Moto than meets the eye, and soon Casey finds himself in over his head in a twisting tale of international espionage. Your Turn, Mr. Moto is the first in an exciting series of spy novels.
My Neighbor Seki is a great little manga series. Rumi just wants to focus on her schoolwork and do well in her classes. But, it's hard to focus when her annoying classmate Seki starts working on his strange projects. Whether he's playing with toys, performing magic tricks, or even attempting ikebana, the results are always the same: Rumi gets so distracted that she can't even focus, and gets in constant trouble with her teacher. The thing is, Seki never seems to get caught! The harder Rumi tries to ignore him, the more elaborate and ridiculous his activities become. Will she ever be able to focus in class? And what's Seki going to do this time??