Welcome once again to another round of Staff Picks! To see what we talked about last time, check out Part 17 here! Our selection this time features titles recommended by staff in Technical Services, Administration, Adult Services, and Youth Services. We hope you enjoy!
Tom (Technical Services) recommends: The Chronicles of Narnia series by C.S. Lewis
Category: Juvenile Fiction
Tom says: Very few works of fantasy fiction can compare to the magical world of Narnia, and the stories within these books. Each book follows a slightly different set of protagonists as they wander into a strange new world. They are faced with a quest they must complete in order to stop a great evil, save the kingdom, and get back home! The characters, places, and plot twists will enamor kids and adults alike. Good moral lessons are effortlessly woven into each story as well. It's the kind of series where you just feel better after reading them. I never read the complete collection as a kid, but I absolutely loved reading them recently! Fans of The Hobbit, the Lord of the Rings, or high fantasy in general will find these books time well spent. Exciting, funny, philosophical, warm, and at times, transcendent!
Guy (Administration) recommends: Patriot Games by Tom Clancy
Category: Adult Fiction
Ex-military man Jack Ryan is vacationing with his family when he witnesses a terrorist attack happening right in front of him. Ryan jumps into action and wakes up in the hospital learning that he has saved the lives of the King and Queen of Wales, both earning himself some powerful allies and dangerous enemies.
Guy says: Tom Clancy passed away in 2013, but he was one of my favorites. I started out with The Hunt for Red October because I read a really enthusiastic review of it.  Patriot Games is my favorite book of his and also a really good movie. 
Frances (Adult Services) recommends: A Tale for the Time Being by Ruth Ozeki
Category: Adult Fiction
Pushed to desperation by her classmates' bullying, sixteen-year-old Nao has decided to end it all. But, before she does, she wants to tell the story of her great-grandmother, a Buddhist nun who has lived for over 100 years. Meanwhile, novelist Ruth discovers a Hello Kitty lunchbox washed up on the beach as a result of the 2011 tsunami. As the mystery of its contests unfolds, Ruth is pulled into the mystery of Nao's drama and fate, as well as the story of her own future.
Cathy (Youth Services) recommends: The Invisible Life of Addie LaRue by V.E. Schwab
Category: Adult Fantasy
Cathy says: In 1714 France, a young woman named Addie LaRue faces a moment of desperation and makes a Faustian bargain to live forever—and in so doing is cursed to be forgotten by everyone she meets. Addie embarks on a dazzling adventure that plays out across history and art, and across centuries and continents as she discovers how far she's willing to go to leave her mark on a world that's designed to forget her. After nearly 300 years, everything changes when Addie meets a young man in a hidden bookstore, and he becomes the first and only person to remember her name. 
 Written in the same vein as The Time Traveler's Wife and Life After Life, this is the type of book that is savored and enjoyed and that will stay with you long after you turn the last page!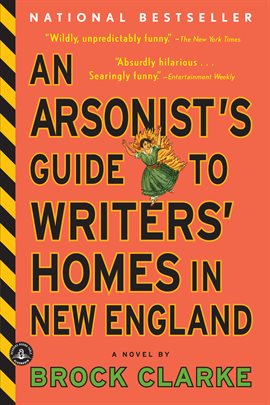 Robin (Technical Services) recommends: An Arsonist's Guide to Writers' Homes in New England by Brock Clark
Category: Adult Fiction
When he was 18, hapless hero Sam Pulsifer accidentally burned down Emily Dickinson's house and killed two people. The novel follows Sam's life following the incident, from his ten-year long prison sentence to his eventual release and attempt to restart his life at twenty-eight as a husband and father. But, when the homes of other famous New England writers also start to go up in smoke, Sam must prove his innocence and uncover the true identity of the literary arsonist who is framing him.