So, back in December, I talked a bit about a reading challenge that I like to create for the staff here at WPPL. And I encouraged everyone to join in for a bit of the fun. So, this year, I'm going to try and come up with lists of books that cover many of the prompts on this list. If you're at a loss for what to read next, this might be a helpful place to start!
The titles on this list all fit the prompt "A Book About Revenge".
Revenge is really a terrible thing. But, it makes for some great stories. It's fascinating for readers to watch a character become completely twisted by one dark impulse–to see someone else pay for what they did to them. Maybe partner up these titles with something cheerful afterwards?
Hamlet is a classic tale of revenge and madness by one of the masters of English literature. While he is away at school, Danish prince Hamlet learns that his father has died (and that his uncle, who has now married Hamlet's mother) is responsible for his death. So, he returns home, with a devious revenge plot in mind, playing the madman and fool to throw his uncle off his guard. But, is it all an act? Has Hamlet actually been driven mad by grief? Or, perhaps, was he crazy all along? That's up to the audience to decide.
Edmund Dantes had it all. A big promotion, a beautiful fiancée, a good head on his shoulders. But, everything falls apart for him when a couple of jealous rivals have him imprisoned in the notorious Château d'If. For years, he wastes away, plotting his revenge, only to find salvation in the most unlikely of places–at the hands of another prisoner with a secret treasure. Dantes makes his escape, finds the treasure, and starts a new life for himself as the mysterious Count of Monte Cristo, a rich benefactor to many, who is plotting a secret and terrible revenge on those who ruined his life.
Carrie is tormented and mocked by her classmates (and even her own mother). But, no one realizes that this lonely girl has strong telekinetic powers, and when pushed to her limits, will most certainly use them. Even those of us who haven't seen the movie are familiar with the famous bloody prom scene. Why not read the story that inspired it all? This chilling tale of horror was Stephen King's first novel, and the book that catapulted him into the public eye.
You've no doubt heard of The Revenant as the movie that finally got Leonardo DiCaprio his coveted Oscar. But, did you know it started off as a book? This terrifying tale is based on the real-life experiences of trapper Hugh Glass, who is brutally mauled by a bear and not expected to survive. His hunting party leaves him in the care of two of their members, who abandon him to die instead. But, the unexpected happens, when instead of dying, Glass decides to pursue his former colleagues, with only one thought in his mind: revenge. This is a gripping, shocking thriller that's sure to keep readers on the edge of their seats. And if you liked the book, check out the movie!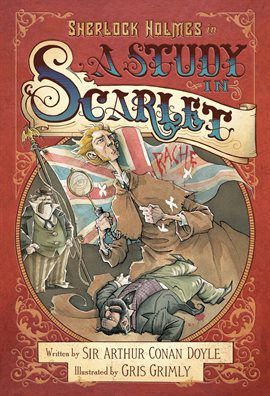 A Study in Scarlet is the first of the Sherlock Holmes stories, introducing how Watson and Holmes meet. This thrilling novel is, however, at its heart a crime of revenge. When a man is found murdered in an empty room of an abandoned house, no one's sure what to make of the crime. Things become even more confusing when the word "rache" is discovered above the doorjamb written in blood. (For those of you not fluent in German, "rache" translates as revenge). This ebook edition is beautifully illustrated by the incredibly talented artist Gris Grimly. Or, if you're really interested in the adventures of Holmes and Watson, consider checking out the complete series, starting with this volume.