I loved New Year's as a child. I loved staying up until midnight and having "champagne" (sparkling grape juice) as much as I loved my grandmother's unique traditions. My grandmother rang in the new year with a cacophony of noise. She would open the front doors and bang on pots and pans with wooden spoons at midnight. On January 1 she served pork and sauerkraut for good luck, and we each received a penny under our plates for prosperity through the year. My grandmother would never serve beef or chicken on New Year's Day–they scratch backwards! Pigs root forward, assuring a confident entry into the new year.
Here are some books and recipes to start new traditions in your family.
Yellow Underwear, Grapes and El Año Viejo
In Feliz New Year, Ava Gabriella! readers learn about Colombian and Caribbean Latin New Year's traditions. The most surprising? The wearing of yellow underwear for luck and happiness! The most enduring? El Año Viejo. In her note in the back of the book, Alexandra Alessandri explains that her culture's tradition was to make a life-sized doll of an old man, called el año viejo, or the old year. The doll was originally made of newspaper or straw and burned after midnight. The book displays the new tradition the author's family began: Making El Año Viejo out of balloons and letting the children pop him! Why not try making a balloon doll representing 2020 and popping the Old Year goodbye?
There is no recipe, per se, in Feliz New Year, Ava Gabriella! but children will be delighted by the tradition of eating 12 grapes at midnight. Each grape represents good luck for one month of the year. A sour or bitter grape may indicate a hard month. The challenge is that each grape must be eaten with each stroke of the midnight clock, so you're eating 12 grapes in 12 seconds. That's a fun challenge for kids who will be laughing and covered in sticky grape juice. Be sure to halve the grapes for younger kids!
Freedom Soup for Everyone!
Belle and her Ti Gran make Freedom Soup together on New Year's Day, a Haitian tradition in the book by the same name by Tami Charles. All time spent in the kitchen with grandmothers is about more than cooking, isn't it? Ti Gran and Belle cook and dance together, and Ti Gran uses this as an opportunity to share the story of the struggle and triumph of the Haitian Revolution, which the author shares in her note, is the most successful slave rebellion in the Western Hemisphere. The lush illustrations by Jacqueline Alcántara and the sensory-rich prose will have you longing to swing your hips and try making some Soup Joumou, all while exclaiming, "Haiti is free! Freedom soup for everyone!" as Belle and Ti Gran do!
Freedom Soup Recipe from Tami Charles
Begin by making the epis, which is a common marinade used in many Haitian dishes.
Epis Ingredients:
3 scallions
3 garlic bulbs
2 peppers (red and green)            
5 sprigs of thyme
1 bunch of cilantro                   
1 bunch of parsley
2 celery stalks                         
¼ cup of olive oil
½ cup of lime juice                  
1 teaspoon of vinegar
Epis Directions:
Blend all of the ingredients in a blender, or mash them using a pilón (mortar and pestle). Pour over the meat you will use for the soup. Marinate for up to 24 hours.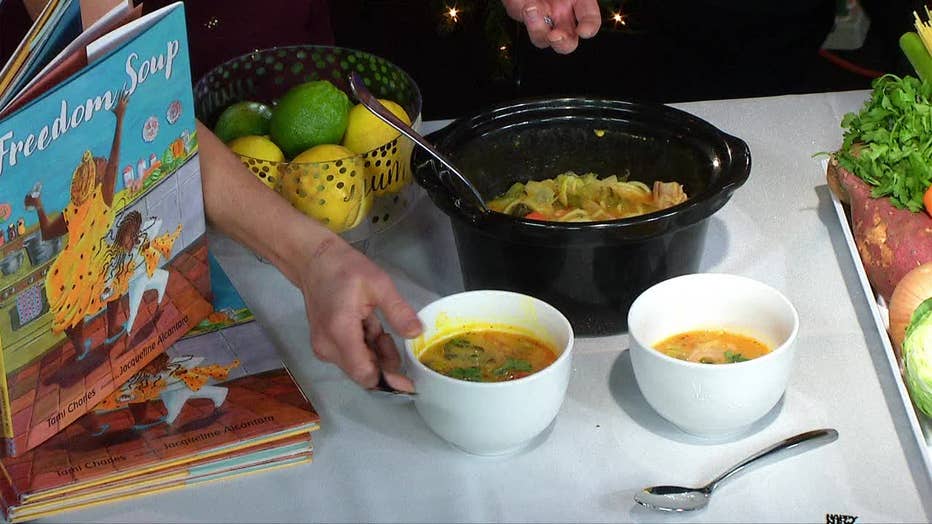 Soup Ingredients:
2 pounds of your preferred meat (marinated in epis)
2 tablespoons olive oil
8 cups stock (beef, chicken, or vegetable)
2 packages, frozen butternut squash
1 scotch bonnet pepper (optional)
½ teaspoon, dried thyme
2 tablespoons, chopped parsley
2 tablespoons, chopped cilantro
1 large potato, peeled and cut
2 carrots, cut into 1 ½" pieces
2 stalks celery, cut
1/2 small green cabbage, cored and cut
1 handful of spaghetti, broken in half (or preferred pasta)
Directions:
In a large soup pot, brown the meat in the olive oil.
Add stock, scotch bonnet pepper, and squash. Boil until the meat reaches your desired level of tenderness.
Add the thyme, parsley, cilantro, and potato to the pot. Continue boiling for approximately 15 minutes.
Add the remaining vegetables, reduce heat, and simmer approximately 25 minutes, or until tender.
Stir occasionally until soup thickens. Add pasta and cook according to package directions.
Don't forget to remove the scotch bonnet pepper!
Add salt and pepper to taste.
Hoppin' John and Lucky Foods
Shanté Keys is dismayed to discover that Grandma Keys has forgotten to cook the traditional Soul Food good luck dish of cowpeas, or black-eyed peas! So is Grandma, who gets a great bit of dialogue here: "Mercy!" cries Grandma, "I'm weak in the knees. I cooked lots of food, but forgot black-eyed peas!" What's a little girl to do? Shanté goes through the neighborhood looking for peas. She finds a melting pot of traditions, from Scottish haggis and cheese to Chinese New Year dumplings. When the peas are finally found, it's a bulk-sized bag, and that's a good thing because all of the neighbors stop by to drop off their own lucky dishes and sample some peas, in the form of Hoppin' John. Gail Piernas-Davenport includes a note about New Year lucky foods and traditions, even those that don't sync with the Western calendar, like Lunar New Year and Diwali. Her note mentions little known traditions like the German St. Sylvester meal of carp and the lucky carp scales and the Swiss drop of fresh cream falling on the floor.
Grandma Louise's Hoppin' John Recipe from Gail Piernas-Davenport
Ingredients:
3/4 cup chopped onion and 3/4 cup chopped celery
2 cloves garlic, minced
2 teaspoons canola oil
1 12-ounce package fresh black-eyed peas, rinsed (The recipe notes you can also use frozen or canned black-eyed peas, or soaked and cooked dried ones.)
2 2/3 cups chicken broth
1/2 pound cooked ham, cubed
1 bay leaf
cooked rice
Directions:
Heat the vegetable oil in a large pot and sauté the onions, celery, and garlic until tender, about three minutes. Add fresh peas, chicken broth, ham, and bay leaf. Boil for three minutes, then lower heat. Cover the pot and simmer until the peas are tender, about forty-five minutes. Check the pot occasionally and add water if needed. Remove the bay leaf and serve over cooked rice. Season to suit your taste!