As always, we're bringing you another round of staff picks from all over the library. If you like what you see here, consider checking out last week's list!
Robin (Technical Services) recommends: The Happiest People in the World by Brock Clark
Category: Adult Fiction
Robin says:  I love books (fiction) with quirky, sometimes unreliable narrators, with some interesting family dysfunction thrown in. The author Brock Clarke does a great job creating such stories. The Happiest People in the World is part spy satire, part comedy of errors, complete with secret identities and lots of absurdity, and takes the reader on a great ride.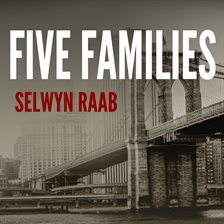 Guy (Administration) recommends: The Five Families by Selwynn Raab
Category: Adult Biography
Guy says: Selwyn Raab's 2005 book "Five Families" is probably the best book on NYC Mafia organizations that I've ever read. He was a New York Times investigative reporter and is still looked upon as an organized crime expert. He frequently comments on Mafia matters for news media. It is one lengthy read at 816 pages [34 hours on audiobook], and it might be helpful to have some familiarity with the NYC Mafia.  
Jeni (Technical Services) recommends: The Southern Book Club's Guide to Slaying Vampires by Grady Hendrix
Category: Adult Fiction
Patricia Campbell's life is slipping out of her control. Between her workaholic husband, distant teens, and senile mother-in-law, she feels like she's always a step behind on everything. Her only sanctuary is her book club, a close-knit group of women with a passion for true crime. But, one night after book club, Patricia is attacked by an elderly neighbor, bringing her neighbor's handsome nephew James into her life. James is well-traveled and well-read, and makes Patricia feel like she hasn't felt in years. But, when children start to disappear in town, Patricia begins to suspect James might be behind the the disappearances. And she's right–sort of. James certainly is a monster, but not the kind that Patricia thought he was. And unfortunately, she's already invited him in….
Cassie (Adult Services) recommends: All Boys Aren't Blue by George M. Johnson
Category: Adult Non-Fiction
Cassie says: This autobiography captures the author's unique perspective of growing up at the intersection of two marginalized identities – queer and black. Johnson is incredibly honest in his narrative and while a lot of the content is heavy, he also shares heartfelt memories of his family and friends. From this book, I was able to gain a more clear perspective of both the author's life and of upbringings and intersections very different from my own.
Erin (Adult Services) recommends: Mujirushi: The Sign of Dreams by Naoki Urasawa
Category: Adult Graphic Novel
Erin says: This is a beautiful and amazing book! A bankrupt single father gets involved in a failed business venture and loses everything. Salvation appears to come for him in the most unlikely form–a strange man who claims that he can help him make a ton of money–through stealing rare art pieces from the Louvre, hiding them in storage (so that they never leave the museum) and then selling counterfeits on the black market. Intertwined with this is a love story and a passionate love note to France. This is one of the best books I've read in a long time, by one of the best manga-ka writing today!