With an election coming up, you may be looking to help a child understand voting and the election process. These books and resources can help!

Want to visit the library? These are some of the titles available.
V is for Voting by Kate Farrell
A timely picture book that acts as an introduction to civics for young readers.

One vote, two votes, I vote, you vote : all about voting by Bonnie Worth
Written in simple rhyme, this Cat in the Hat's Learning Library Book introduces early readers to the concept and practice of voting–with a focus on the American Presidency!




I Voted: Making a Choice Makes a Difference by Mark Shulman
With the next presidential election upon us, this witty, nonpartisan book will help explain the concept of voting to the youngest readers.



Voting: A Kid's Guide by Nelson Yomtov
The votes are in! What is voting all about? Readers find out why voting is important and how it plays a part our elections.



Looking for more titles? Check out our online catalog.


Not wanting to leave home? These e-books can be checked out from Hoopla. Free with your library card!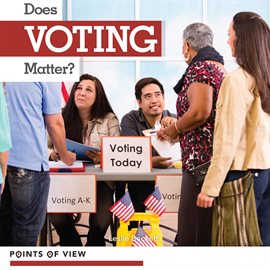 Does Voting Matter by Leslie Beckett
Society can be cynical at times, and this can lead to apathy. One example of this is the question of whether or not a person's individual vote in an election actually matters.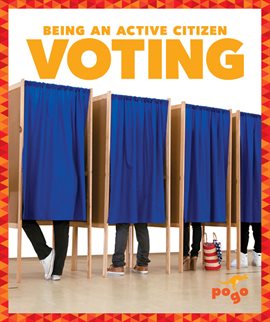 Voting by Vincent Alexander
In this book, readers will learn about one of the important duties of active citizens. Why should we vote? Why is it a privilege? Vibrant, full-color photos and carefully leveled text will engage young readers as they learn more. Compelling questions encourage further inquiry.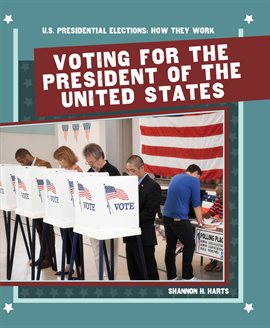 Voting for the President of the United States by Shannon H. Harts
Why is voting to choose the president of the United States important? What is the process and how has it changed? These essential questions and more are answered in this book, which will educate students about an important facet of citizenship.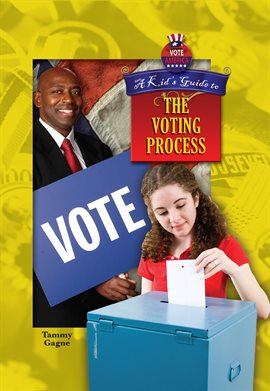 A Kid's Guide to the Voting Process by Tammy Gagne
Americans have been voting since the United States was first formed. As U.S. citizens, we vote for our country's presidents, senators, and representatives in Congress. We also vote for local leaders like mayors and city council members. We even cast votes to decide how our tax dollars are spent. How does the voting process work, though?


More e-books are available. You can check out our digital collection here!



Our databases can help, too!
World Book Kids has great articles and informational links to websites. You can access World Book Kids for free with your library card! Click here for a link to an entry on voting.



Explora is a great resource for current articles and reviews for students and educators. Click here for the results from a search on the election 2020. You can access Explora for free with your library card!