To help get into the Halloween spirit, I present to you a collection of titles all about Dr. Jekyll and Mr. Hyde. We've heard this story so many times, it's become part of our vocabulary. After all, when someone does a complete 180º from sweet to cruel, don't we call them a Jekyll-and-Hyde? And haven't there been so many variations on this story, from Looney Toons and The Three Stooges to Hollywood movies and Broadway musicals? So, this Halloween season, we're going to take a look at some of these adaptations you can get right here at your library!
The original novella, The Strange Case of Dr. Jekyll and Mr. Hyde remains an absolute classic. Dr. Henry Jekyll creates a serum that separates the good from the evil in his heart, creating the villainous Mr. Hyde. At first, there is something freeing about being Hyde–Jekyll no longer has to abide by the rigid standards he's always been held to, since nothing he does can be traced back to him. But, when Hyde begins to take over on his own accord, and Jekyll finds that he no longer has control over his own body, the good doctor must figure out how to stop the monster he has created, before it's too late.
Of all the Dr. Jekyll and Mr. Hyde movies, the 1920 silent version is my favorite. John Barrymore's acting is amazing, both as Jekyll and Hyde, and his makeup and transformations are excellent. A straight-laced doctor becomes obsessed with the dual nature of man after falling in love with a dance-hall performer named Gina. When he attempts to separate the two parts of himself, he finds new freedom in the persona of Mr. Hyde. But, when Hyde begins taking over, Jekyll soon realizes his deadly mistake.
And speaking of movies, here are two more from our collection! This set includes the 1931 Fredric March version as well as the 1941 film with Spencer Tracy. Like the Barrymore production, both films explore the dangers of separating the good and evil in the human heart.
Still want more? Head over to Hoopla for two additional Jekyll and Hyde titles: the 2008 version with Dougray Scott and the 1968 made-for-TV movie with Jack Palance.
Ever since I was a kid, I loved the Abbott and Costello "Meet the Monsters" movies. And this one is no exception. Abbott and Costello Meet Dr. Jekyll and Mr. Hyde follows two bumbling American cops (Slim and Tubby) who are in England to learn police tactics. There, the pair befriends Dr. Jekyll, a kindly doctor who's been growing increasingly frustrated as people mock him and his experiments. Meanwhile, Slim and Tubby are on the track of the mysterious Mr. Hyde, not realizing that the two are actually one and the same!
Jekyll is a BBC reimagining set in the modern day. It follows Dr. Jackman, a descendent of Dr. Jekyll who finds himself inexplicably transforming into his own variation of Mr. Hyde. Abandoning his family, and aided by his nurse, Katherine Reimer, Jackman forms an uneasy alliance with the evil persona inside of him, but there are forces outside of their control that refuse to let him go. Fair warning to those looking for a faithful adaptation–this story takes a lot of liberties. It would probably be best to think of it as more of a continuation of the story than a adaptation.
It has been nearly seven years since Dr. Jekyll disappeared. Or, rather, since he died in an attempt to rid of the world of the monster he created: his alternate personality, Mr. Hyde. And Jekyll's friend, Mr. Utterson, is set to inherit the estate. The only thing is, no one knows that Jekyll was Hyde, except for Utterson. He saw him transform, and he saw him die. So, when a man shows up claiming to be Dr. Jekyll, he knows that this cannot be correct. But, everyone else believes it's really him, and that Utterson's refusal to believe in Jekyll is motivated purely by his own selfishness. But, what really happened? Dr. Jekyll and Mr. Seek is a twisting, turning, slightly unnerving sequel to the original tale, that leaves readers wondering who or what we are actually supposed to believe.
If you enjoyed this book, consider checking out some other novels with unreliable narrators here.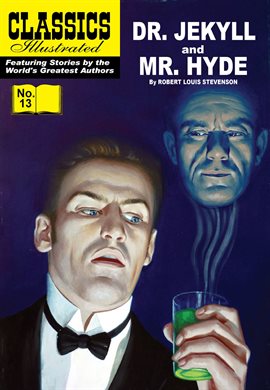 Let's say you want to read the book, but just don't have the time right now. Luckily, The Strange Case of Dr. Jekyll and Mr. Hyde is pretty short. But, there are also several graphic novel adaptations, and we have two to offer through Hoopla. I used to read the Classics Illustrated books as a kid, and actually have quite a collection of titles at home. Apart from some necessary abridgements, this is a very faithful series. There are 50+ issues in Hoopla, ranging from Alice in Wonderland to Twenty-Thousand Leagues Under the Sea.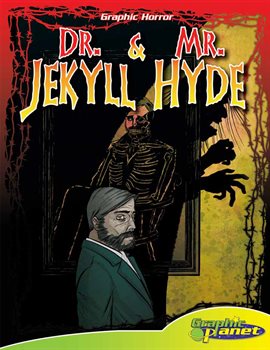 If you want something a bit grittier, then consider the Graphic Horror version, illustrated by Jason Ho. And if you like what you read, there's plenty more to send chills down your spine, including titles like Dracula and The Picture of Dorian Gray.
We'll end this list with a musical! That's right– Jekyll and Hyde: The Musical. David Hasselhoff does an amazing job in the dual role of kindly, but stern Dr. Jekyll and the violent and dangerous Mr. Hyde. Jekyll's father is in a coma, and since Jekyll believes that illness is created by the evil that is inherently inside of all of us, then removing the evil could destroy any disease. But, when his requests to perform his experiments on a living human being are vehemently denied, Jekyll undertakes the experiments on himself, and the results not only threaten to destroy his life, but also the lives of those closest to him.
If you just want to enjoy the music, then check out the Broadway cast recording starring Anthony Warlow and Linda Eder. This is my favorite version of the musical!