Last week, we looked at some classic horror novels to get you into the Halloween spirit. Today, let's continue with that list. These five titles might not be new, but there's a reason that we're still reading them decades after publication. Prepare yourself for some spooky good fun! And if you like what you see here and are looking for more titles, then consider checking out part one of this post.
At about 500 pages, Ghost Story is not for the faint of heart. This terrifying tale follows five aging friends who meet to share ghost stories. When one of them dies suddenly, the rest of the group is haunted by dreams where they also die. As the past comes back with a vengeance, it's only a matter of time before they find themselves in terrible danger. Now, this book is a real slow burn, so I recommend it mostly to someone who is willing to give it the time and focus that it deserves. If you're looking for a quick read that you can finish in a couple of days, Ghost Story is probably not the right book for you. But, if you have time to spare….it's well worth it.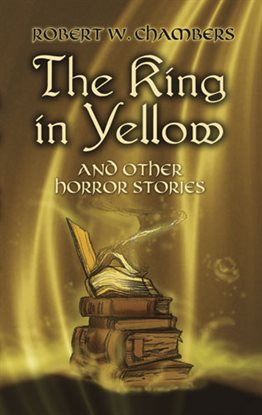 The King in Yellow is a collection of horror stories, the first four of which all revolve around a mysterious "King in Yellow," whether it's in reference to a play with that name, or a terrifying Gothic figure. First published in 1895, this book still creates an atmosphere of dread over 100 years later. Still not convinced? Cthulu worshippers should pay especial attention. Lovecraft's work actually draws a lot of inspiration from here, and some of the more mysterious places and things are referenced in his own books, including the "yellow sign," are a running theme through much of The King in Yellow.
Part of the Haunted Library Horror Classics series, Vathek is a terrifying tale of a man who sells his soul to the devil in order to gain secret knowledge. When you have everything you could ever want–power, influence, pleasure, what else is there? Vathek craves knowledge above all else, inviting scholar after scholar to his palaces to debate with him, and killing or imprisoning those whom he cannot convert to his thought process. When a hideous stranger arrives at the palace with a sword inscribed with untranslatable text, Vathek becomes determined to do whatever it takes to find the secret of both sword and stranger, even at the cost of his own soul.
Poe is the original master of the macabre. With this in mind, might I suggest The Complete Tales and Poems of Edgar Allan Poe? Obviously, you might not want to read everything (or maybe you do!), but this way, you'll never be left scrambling to find the next poem or short story to read, since you'll have everything in one convenient place. Unsure of where to start? Here are a few of my favorites: "The Raven"– a poem about a man lamenting his lost love, while struggling with the message of a mysterious harbinger; "The Tell-Tale Heart"– our unnamed narrator explains how he killed the old man in his care, because he feared his hideous vulture eye; "The Masque of the Red Death"– a prince and his friends celebrate at a lavish party while the people outside die of plague; and "William Wilson"– young William Wilson meets someone who is almost certainly his exact twin in every way, but something is deeply wrong.
A giant shark is attacking people on a normally peaceful beach. Don't go in the water, unless you want to be the next victim of Jaws. As the death toll continues to rise, a team of police chief Brody, fisherman Quint, and ichthyolist Matt Hooper (who Brody suspects is having an affair with his unfaithful wife, Ellen) join forces to take down the killer shark once and for all.
If you enjoyed reading this tale of terror, consider checking out the film that made it famous when you're done. Or, as is more likely, if you've already seen and enjoyed the film, consider checking out the book!