Join us for another round of staff picks! This week's selection comes to you from our staff in Youth Services, Administration, and Adult Services. If you're looking for more, consider checking out our selections from last week!
Nancy (Youth Services) recommends: The Answer Is…Reflections on My Life by Alex Trebek
Category: Adult Non-Fiction
Nancy says: Alex shares his thoughts on a range of topics including marriage, family, education, success, and his career leading up to and including hosting Jeopardy. Alex was so moved by the amazing outpouring of support following his announcement of stage 4 pancreatic cancer that he felt it was now time to share his story. He is a very grateful and humble person with a big heart for helping those less fortunate. Following Jeopardy tradition, every chapter title is in the form of a question! The audio version is wonderfully narrated by Alex Trebek and Ken Jennings!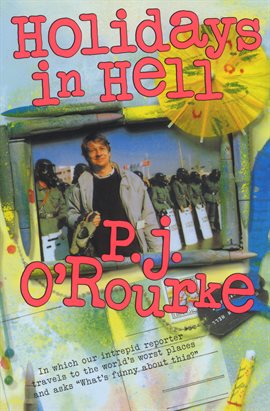 Guy (Administration) recommends: Holidays in Hell by P.J. O'Rouke
Category: Adult Non-Fiction
Guy says: PJ O'Rourke is America's foremost satirist. Born and raised in Toledo, went to Miami of Ohio, editor of National Lampoon, wrote for Rolling Stone on international affairs and for several car magazines. He currently contributes to The WaPo and is the editor of American Consequences. My wife and I have heard him speak twice. I would start off with Holidays in Hell (and its sequel Holidays in Heck). Driving Like Crazy is also good. His latest book (A Cry From the Far Middle) is due out Sept. 15. Any man who nicknames his children Buster, Poppet, and Muffin is OK in my book.
Cathy (Youth Services) recommends: Turtle Boy by M. Evan Wolkenstein
Category: Juvenile Fiction
Cathy says: Perfect for fans of Wonder and Goldfish Boy, this is a story about what it means to be brave when all you want to do is hide in your shell. Though there's heartbreak between the pages, Turtle Boy tells a powerful tale of hope, friendship, and self-image.
Joanne (Adult Services) recommends: A Ballad of Songbird and Snakes by Suzanne Collins
Category: YA Fiction/Adult Fantasy
Joanne says: The Ballad of Songbirds and Snakes is the newest title in the Hunger Games series by Suzanne Collins. It is in fact a prequel, introducing President Snow as a very young man. The story takes place early in Panem's history. The Capitol is still not recovered from the rebellion and the Snow family, once aristocracy, are struggling like most everyone else. There are glimpses of Coriolanus as a typical teenage boy, especially so when he falls for one of the tributes in the 10th Annual Hunger Games, Lucy Gray Baird a free spirit with a beautiful singing voice. Though we know how the bigger story unfurls, this title is intriguing enough to keep you wondering where it all went wrong for Corio.
Katie (Youth Services) recommends: Hamilton: The Revolution, Being the Complete Libretto of the Broadway Musical, with a True Account of its Creation, and Concise Remarks on Hip-Hop, the Power of Stories, and the New America by Lin-Manuel Miranda
Category: Adult Non-Fiction
Katie says: This shares an account of the creation of Hamilton, the Musical from the first song written in 2009 to opening night in 2015. This enlightening and humorous book includes the libretto and photos from the musical as well as more than 200 exclusive revealing footnotes from Lin-Manuel Miranda. Miranda does not hesitate to get permission and give credit to other artists whose style/work has been "borrowed" for the musical. I was just as captivated reading this account as I was watching the musical for the 4th and 5th time or listening to the soundtrack for the nth time.