This week's Staff Picks come from Youth Services, Administration, and Adult Services! For more book suggestions, check out Part 4 of our series!
Nancy (Youth Services) recommends: How the Penguins Saved Veronica by Hazel Prior
Category: Adult Fiction
Nancy says: After watching a National Geographic documentary, 85 year old Veronica McCreedy decides to take an excursion to Antarctica to help save the penguins. She arrives without the scientists' approval, and with the intention of leaving her fortune to fund penguin research. The story evolves around a sweet orphaned baby penguin named Patrick and an estranged grandson. This is a wonderful story of hope, love, adventure and family!
Guy (Administration) recommends: Pepper Pike by Les Roberts
Category: Adult Mystery
Guy says: Les Roberts was the first writer and producer of the Hollywood Squares game show. In 1987 he came to Cleveland to write for the Ohio Lottery Cash Explosion show and fell in love with our town. He started the Milan Jacovich PI series with Pepper Pike. Jacovich is of Slovenian parentage, an ex-cop and Vietnam War vet who is a one-man detective agency. All the books are set in Cleveland and environs. I had the good fortune to introduce him at the old Borders when his book Collision Bend came out. He inscribed a copy for me. And how can anyone from around here not like the title Full Cleveland?
Rebecca (Youth Services) recommends: Escape from Aleppo by N.H. Senzai
Category: Juvenile Fiction
December 17, 2010. It's Nadia's 12th birthday and the young girl is convinced that this is destined to be the best day of her life. There's balloons, a cake, and everyone is about to sing Happy Birthday when her uncle calls everyone's attention to the TV, where a reporter announces that a vegetable vendor in Tunis has burned himself alive in protest against the corrupt government officials who have been harassing his business. Soon anti-government protests erupt across the Middle East and, one by one, countries are thrown into turmoil. As civil war flares in Syria and bombs fall across Nadia's home city of Aleppo, her family decides to flee to safety. Inspired by current events, this novel sheds light on the complicated situation in Syria that has led to an international refugee crisis, and tells the story of one girl's journey to safety.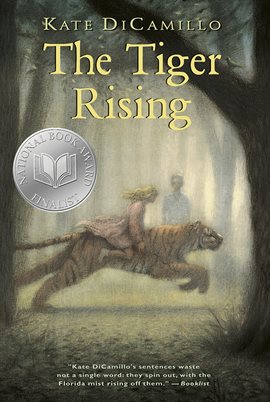 Cassie (Adult Services) recommends: The Tiger Rising by Kate DeCamillo
Category: Juvenile Fiction
Cassie says: I read The Tiger Rising last year when I was tutoring 4th graders. While I began to read this to my students, I found myself at home later, unable to put the book down. This book is another fantastic story by Kate DiCamillo (author of Because of Winn-Dixie). The Tiger Rising is about a boy named Rob who is coping with loss and change when he discovers a real tiger locked in a cage in the woods. DiCamillo uses the the tiger and its symbolism throughout the book to push Rob to come face-to-face with his bottled emotions.
Erin (Adult Services) recommends: We Don't Eat Our Classmates by Ryan Higgins
Category: Picture Book
Erin says: It's Penelope Rex's first day of school and she's totally prepared. She's got her new backpack (with ponies on it!) and her lunch is packed (300 tuna sandwiches!). But, there's one thing Penelope didn't take into account: her entire class is made up of delicious children! It's hard to make friends when you're trying to eat them, but Penelope soon learns a very importance lesson about proper classroom etiquette. This book is so incredibly cute and I couldn't help smiling the entire time I was reading it.