Banned Books Week is one of my favorite times of the library year. After all, it's a great way to celebrate the freedom to read and to protest censorship. Books are banned for a variety of reasons, including language, sexual content, religious viewpoints (or lack thereof), and violence. Most of the time, it's somewhat obvious why a book might have been challenged or banned, even if you don't agree with the ruling. But, every once in a while, a title comes along that makes you double-take. Wait a second…you're banning that one? Why? That's what we're going to be looking at today!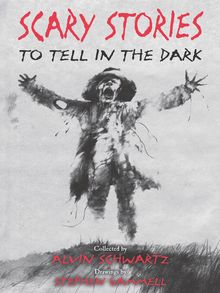 It's hard to tell at first glance why Scary Stories to Tell in the Dark is banned, that is, if you're reading a reprint of the book, with illustrations by Brad Helquist. But, if you have a copy with the original illustrations by Stephen Gammell, you'll understand. These nightmarish images, coupled with some truly terrifying tales, made for many sleepless nights for children, and many upset parents. Cannibalism, monsters, the dead returning to life, ghosts, spider eggs, and so many other gruesome topics fill the pages of these books. And as a kid, my friends and I just loved it!
Why would you want to ban James and the Giant Peach? It's a story about a young boy who escapes his abusive aunts with the help of a little magic, a giant peach, and a gaggle of human-sized insect friends. Believe it or not, it was banned for several reasons, including witchcraft (because of the strange old man who gave James the magic crystals) and references to alcohol and drug use (such as in the song the centipede sings, which references tobacco, snuff, and drinking wine).
Believe it or not, Where's Waldo was banned because of nudity! But, before you start looking for the now infamous image in the book, make sure you have a copy of the 1978 edition. Once the image was discovered, it was promptly removed from all successive printings. But, if you're still curious, there was a topless sunbather in the beach scene. She has since acquired a bikini top.
Winnie the Pooh is my favorite entry on this list for a number of reasons. One, I just love the books. But, two, I think the reasons it was banned or challenged are actually pretty funny. Some of the better ones include accusations that talking animals are an affront to God and man (since animals are lesser than people and should not be able to talk), and perhaps most surprisingly, because Pooh is not wearing underpants! None of the other animals' clothing choices (or lack of clothing choices were brought up, however).
Despite the fact that his poetry is meant to be funny and engaging, Shel Silverstein's books, including Where the Sidewalk Ends have been banned multiple times for a variety of reasons. A few of the highlights include accusations that it encouraged children to question authority; and glorified Satan (???), suicide, and cannibalism. I'm not entirely sure where they were getting this, as I read those books more times than I could count, and remember none of that. Oh, and there was a poem that taught kids to break the dishes instead of washing them (because if you do a job poorly enough, your parents won't ask you to do it again), which I agree is a little devious, but not bad enough to get a book banned.
If you liked what you read, consider another banned book by this author: A Light in the Attic.