Welcome to another round of staff picks! This week's selections come from staff in Youth Services, Administration, Tech Services, and Circulation! Check out Part 2 of this post for more titles!
Jamie (Youth Services) recommends: Malamander by Thomas Taylor
Category: Juvenile Fiction
It's winter in the little seaside town of Eerie-on-Sea. Herbert Lemon, the "Lost and Founder" for the Nautilus Hotel is given the challenge of a lifetime, when the fearless Violet Parma, a young girl about his age, informs him that she lost her parents at the hotel when she was a baby, and she's convinced that Herbert is the only one who can help her find them again. To make things more complicated, Violet is being pursued by a mysterious hook-handed man, and it appears that the town legend of the Malamander just might be coming true! As various townspeople reveal themselves to be secret monster hunters, Herbert and Violet must elude them to discover what really happened to her parents.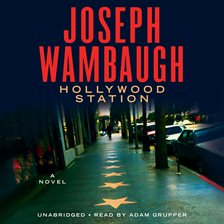 Guy (Administration) recommends: Hollywood Station by Joseph Wambaugh
Category: Adult Fiction
Guy says: I like Joseph Wambaugh's books. He is 83 years old and a retired LAPD sergeant who has been writing fiction and non-fiction since 1971. His books were instrumental in my understanding of what police work was really like, as opposed to TV shows and movies. Just the same, quite a few of his books have been made into movies and TV shows; how's that for irony? I'd start with "Hollywood Station". The desk sergeant character is nicknamed The Oracle". One of his best works.
Jane (Technical Services) recommends: The Last Place You Look by Kristen Lepionka
Category: Adult Mystery
Jane says: Lepionka's mystery series starring PI Roxane Weary is set in her hometown of Columbus, Ohio. In this first book in the series Weary is approached by a woman named Danielle Stockton, who wants her to find a missing person. Danielle's brother, Brad, has been on death row since high school for the murder of his girlfriend's parents. On the night they were killed, his girlfriend, Sarah, disappeared and has not been seen since. Now a date has been set for Brad's execution, and Danielle thinks she saw Sarah at a gas station. If Sarah can be found she might be able to corroborate Danielle's belief in Brad's innocence. Roxane Weary is a complex character and the mystery is twisty, fun and, in my opinion, knocks some of the most recent popular thrillers right out of the water! I'm looking forward to reading the next three in the series.
Nancy (Building Services) recommends: The Girl You Left Behind by Jojo Moyes
Category: Adult Fiction
Nancy says: In this character-driven novel by master storyteller JoJo Moyes, a painting ties together two tales from different time periods. I was gripped by the story of two sisters trying to survive in German-occupied France of WWI. The contemporary tale was also compelling.
Julie (Circulation) recommends: A Book for Escargot by Dashka Slater
Category: Picture Book
Escargot, a little French snail, goes to the library. There are so many excellent books to read! Books about dog superheroes and flamingo astronauts…but no books about daring snail heroes. What's that? Maybe this is the book about daring snail heroes? Ooh là là!
Julie says: I just read the cutest JP pic a few weeks ago, as I was checking it in. It is called "A Book for Escargot". It's so cute I want to buy a copy for my great nieces and nephews.