I love reading comics. I'm not talking about graphic novels, superhero stories, or manga here (although I love those, too!) I'm talking about comic strips, web-comics, and the like. Silly little stories told in just a few panels. Things I can share on social media with my friends. So, today's list will be of different comics. To simplify things, these are all going to be webcomics. No graphic novels, no manga. Nothing serialized. Those will be the subject of another blog post. I hope you enjoy!
Adam Ellis is hilarious and slightly cringy. Millenials will find so many relatable moments in his comics, from dealing with anxiety to the struggles of being an adult. Ellis bounces back and forth from the serious to the silly with relative ease, and readers will find themselves alternately nodding assent and cringing assent at the same time. Super Chill is a hilarious look at a life that is anything but chill.
What if you looked at your life from an outsider's perspective? For that matter, what if you looked at the entire planet from an outsider's perspective? Strange Planet takes the everyday things that we do, but paints them through the lens of a group of adorable aliens. It's perfectly normal to blow out the candles on your birthday cake and then share a piece with your friends. Or to accept friendly kisses from a strange dog. But, these adorable little aliens make everything sound quirky and backwards and weird, forcing us to admit that some of our traditions and habits might be stranger than we realized.
If you liked this book, consider checking out Stranger Planet for more adorable alien goodness!
Sarah Andersen is one of the most relatable webcomic writers out there (at least for Millenials). Her adorable artwork and self-depricating humor depict many day-to-day events in the lives of young people. Just like Adam Ellis, she ranges from the silly to the more serious, tackling topics like having a social life, what to wear (comfortable or cute), and how to deal with anxiety, dating, and more. At the time of this writing, she has three books in her Sarah's Scribbles series. Start with Adulthood is a Myth.
If you enjoyed this book, the fun continues with Big Mushy Happy Lump and Herding Cats.
I love Kate Beaton so much that I already did an Author Spotlight about her work. But, we're going to talk about her again, since she fits in so perfectly in this post! Step Aside, Pops is part of Kate's Hark! A Vagrant collection, a series of comics that pokes fun at literature and history. Whether she's addressing the men in Brontë novels, Elizabethan neck ruffles, Napoleon, or Lord Byron, Kate's hilarious comics are perfect for lovers of history and literature.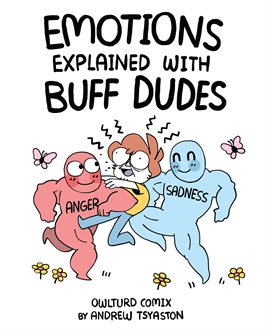 In a similar vein to Ellis and Andersen, I'd like to present Andrew Tsyastan's quirky Owlturd Comix series! Emotions Explained with Buff Dudes has the same self-deprecating and painfully relatable sense of humor as some of the other titles on this list. Tsyastan's use of bright colors and cute characters perfectly contrasts with his views on the emotional gut-punch of life. Friendships, success, the change of seasons…no topic is safe from this slightly cynical, but most amusing webcomic series.