Introverts are awesome! (Shh! Don't say that too loudly or everyone is going to want to hang out with us!) Normally misidentified as shy, antisocial or awkward, in reality, introverts are just people who need time alone to recharge, and who enjoy solitude to be alone with their thoughts. They usually have a very rich interior life and rely on peace and quiet to help them recharge their batteries. While they might be slow to warm up to people, introverts are often surprising in how quirky, crazy, and fun they can be once you gain their trust.
The following list of books are all about introverts. Whether you're an introvert yourself or a loud-and-proud extrovert attempting to understand your quieter friends, this is the list for you.
In a world where so much value is placed on your ability to speak up, to make yourself heard, introverts are put in an unflattering light. In her book Quiet: The Power of Introverts in a World That Can't Stop Talking, Susan Cain argues that we dramatically undervalue introverts and are losing out on quite a bit as a result. Learn about the rise of the Extrovert Ideal, as well as examples of successful (and famous) introverts throughout history, including Rosa Parks and Dr. Seuss. Passionately argued, superbly researched, and filled with indelible stories of real people, Quiet has the power to permanently change how we see introverts and, equally important, how they see themselves.
If you enjoyed this book, consider Cain's book for children, Quiet Power: The Secret Strength of Introverts.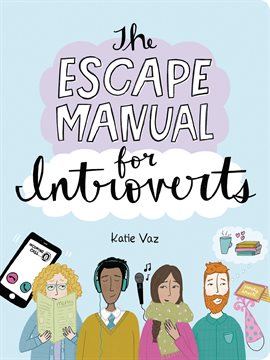 Are you an introvert? Are you stuck in a social situation and want to be anywhere but there? Have you been trapped by a chatty extrovert and can just feel your soul dying? Then I have just the book for you! The Escape Manual for Introverts is a tongue-in-cheek collection of "helpful" escape and important knowledge. For example, how do you keep social events to a reasonable length of time? How do you maintain professionalism at a networking event when you really don't want to be there? And how do you avoid becoming the new best friend of a talkative stranger?
I bet most introverts can relate to this: You're enjoying some quiet hobby (reading, watching a movie, arts and crafts, taking a walk) and the phone rings. Ugh. Why couldn't they just text me instead?? If this is you, then I have just the book to recommend! Text, Don't Call: An Introverted Guide to the Introverted Life is a fun, quirky, and illustrated guide for introverts to better understand their strengths and celebrate what makes them different from 2/3 of the population.
I've talked about Sarah Andersen's hilarious comic series in a previous blog post, but I wanted to share her again here. Being an introvert is hard, especially in a culture that is built on traits that are overwhelmingly extroverted: being a leader, speaking up, being friendly and charming, and able to talk to everyone. Sometimes, it's nice to see something super-relatable that pokes fun at our issues, and makes us nod our heads in agreement. Ah yes, I also have anxiety in social settings. Yes, I have also made a blanket fort to hide in. Adulthood is a Myth is a funny, relatable, and very cute book!
If you enjoyed this book, the fun continues with Big Mushy Happy Lump and Herding Cats.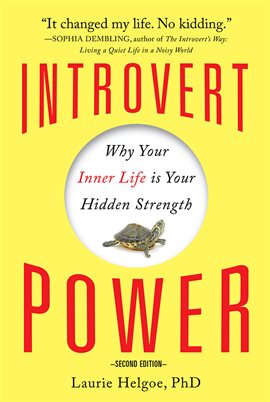 Introvert Power celebrates the hidden strength of an inner life. Psychologist Laurie A. Helgoe argues that a quiet, introspective view of life can actually be a great thing, and that introverts have a lot of power and creativity if only they can learn how to use it. Instead of looking at a need for solitude as a weakness, Helgoe shows the great things that introverts can accomplish, as well as providing helpful tips for the overwhelmed on a variety of situations, such as how to handle parties, find and claim a private space, and bring a slower tempo to our everyday lives.