Time for another installment of our memoir series! (Okay, so there's not a memoir series, per se, but this is the third collection of memoirs I've shared on this site!). If you are looking for more memoirs, consider checking out one of these other lists: Quirky Female Memoirs and Food Memoirs.
Today, we're going to look at graphic memoirs. Not something violent and bloody, but memoirs written in the form of a graphic novel, or ones which are heavily illustrated. Some of these will be written in comic book format, while others will be small bits of text with added illustration.
One quick disclaimer: I'm going to try to point you to new or lesser known graphic memoirs in this post, so I'll be avoiding titles that already have a cult following or already get a lot of press on other lists, such as Persepolis or Fun Home.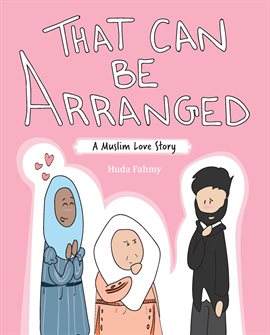 The phrase "arranged marriage" is often used interchangeably with "forced marriage," but as Huda Fahmy makes very clear in her adorable romance memoir, That Can Be Arranged, the two are not the same. In this book, she shares the sweet story of how she met her husband, with all the details of what it's like to date as a practicing Muslim (Apparently, it's surprisingly like a Jane Austen novel!) The book is a quick, fun read, the illustrations are cute and often quite funny, and the story is very relatable to anyone who has ever worried about finding "the one".
I talked about Allie Brosh's Hyperbole and a Half in a previous blog post, but we're going to talk about it again, anyway! Allie's heavily illustrated memoir mostly focuses on her childhood and mental illness, but the stories range from stealing a birthday cake to trying to train the world's stupidest dog. This quick read is like a sugar-rush in book form, and one of the funniest memoirs I've ever read!
The Arab of the Future is a gritty, compelling tale of author Riad Sattouf growing up in a world of great political upheaval, under the watchful eye of not one, but three different dictators: Muammar Gaddafi, Hafez al-Assad, and his own father. The son of a French woman and an Arab father, Sattouf is dragged from country to country by his father, a Pan-Arabist. From rural France to Libya and Syria, this darkly humorous and emotional series is brimming with life, and paints a vivid picture of the lives of a very eccentric family.
The series continues in Arab of the Future 2.
Growing up, Liz Prince was not your typical girly-girl, wearing dresses and lots of pink. But, she wasn't one of the guys, either (a fact that became more and more obvious to her as she got older). She was lost somewhere in the middle of things, struggling to find where she really belonged. This unflinching look at her childhood as a Tomboy addresses growing up, what it means to be a woman, and finding your place in life, especially if you don't quite fit the usual standards.
Fourteen-year-old David Small wakes up from a supposedly simple and harmless surgery to discover that he is now a virtual mute, having had his vocal cord cut, his throat stitched back together like a bloody boot. No one told him that he had throat cancer and was expected to die. In fact, his family has been hiding a lot of things from him, including their unintentional role in causing his cancer. Stitches is a nightmarish fairy tale of family, illness, and the secrets we keep from those closest to us.