Our very own Judy McNamara has been cooking away on the campfire with The Campside Guide to Dutch Oven Cooking by Paul Kautz available on Hoopla! This time she made the chili casserole! Here is her review and some tasty pics! Thanks Judy!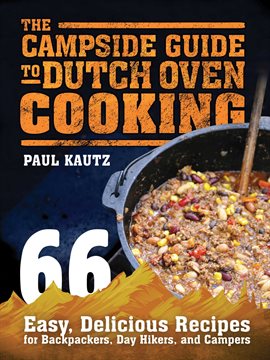 Cooking in a dutch oven over an open fire is becoming easier with each additional use. We doubled the number of briquettes and this helped maintain the heat throughout the cooking process. We also set the kettle legs on bricks to give better airflow underneath. Boiling the macaroni was easier and more successful than I thought. Keeping the lid on insured the boiling process. Also, al dente noodles were better for this recipe since they continued to cook with all the other ingredients. We put the lid on and let it cook for 30 minutes.
Once again, a very tasty recipe. I usually follow a recipe as it is written the first time I make it. I did add more cheese than it called for. This would be an easy recipe to alter to your individual taste. It's good as leftovers and freezes well.
They say with more use the cleanup will get easier and it did.