If I were to ask you who the greatest fictional detective was, I'd be willing to bet you say "Sherlock Holmes". Holmes has transcended simply being an amazing character, and has become a cultural phenomena. He's featured in countless books and movies, most of which weren't even written by his creator, Arthur Conan Doyle. Today, I'd like to share with you a small sampling of the huge literary world surrounding Holmes, from the original tales to some of the newer adaptations.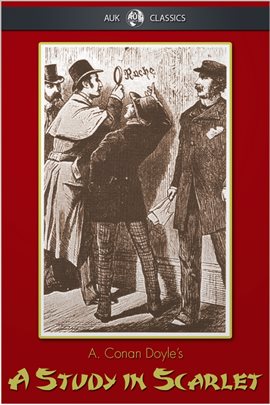 A Study in Scarlet was the very first Holmes story. Dr. John Watson retires from the army after an injury ends his military career. Back in London and looking for lodging, he finds the perfect roommate with Sherlock Holmes, an eccentric who claims to be the world's first "consulting detective." Watson soon becomes embroiled in his very first case with Holmes and gets to see his powers of observation first-hand, when a man is discovered dead in a empty room, and the word "rache" is written in blood on the wall. What follows is a powerful tale of revenge, that has crossed decades and continents.
If you enjoyed this story, consider picking up Sign of Four next. Or, if you want to read everything, you can start with The Complete Sherlock Holmes series in two convenient volumes.
Warlock Holmes: A Study in Brimstone is going to be the strangest title you'll find on this list. In this magical re-imagining of the classic series, John Watson is discharged from the army after being too injured and ill to carry out his duties. A chance meeting with an old friend puts him in contact with Warlock Holmes, a detective in desperate need of a roommate. Watson is also desperate (he's spent the last of his money and is on the brink of starvation), so he agrees to be the eccentric Holmes's roommate, not realizing what unholy terror he has gotten himself into. Vampires, trolls, and a demonic Moriarty are just a small sampling of the horrors (and hilarity) in store for him. Despite it all, this is an incredibly funny series, and one that I recommend very highly.
If you enjoyed this title, consider checking out the sequel, The Hell-Hound of the Baskervilles.
Sherlock Holmes did not exist, but his place of resident, 221B Baker Street, certainly does. But, despite the fact that the greatest detective who ever lived didn't actually live, fans from all over the world insist on sending him letters. As part of their lease, barristers Reggie and Nigel Heath send out form letters to fans, thanking them for writing to Holmes. Afterwards, these Baker Street Letters are filed away forever. The brothers are never permitted to do anything else with them. But, after Nigel reads a letter from an 8-year-old girl whose father has gone missing, he springs into action and decides to investigate, leaving his brother Reggie to track him down before things get out of hand.
If you liked this book, the series continues with The Brothers of Baker Street.
Anarchists attack a painting of the Prime Minister, and suggest that the man himself could be next. As Holmes and Watson close in on the case, it soon becomes clear that they are not alone in the matter. Pursued by the master criminal known only as The Albino, and the mysterious Lord of Strange Deaths, Holmes and Watson will have their hands full in trying to discover the secret of The Albino's Treasure.
If you liked this book, consider another book in the Further Adventures of Sherlock Holmes series, such as The Ripper Legacy or Dr. Jekyll and Mr. Holmes.
Have you already read all the stories and are still looking for more? Try The Sherlock Holmes Book for a complete overview of the entire series!
For further reading, consider The Sherlock Holmes Book of Conundrums (to test your wits in a series of Sherlockian puzzles), or Sherlock Holmes Was Wrong: Reopening the Case of the Hound of the Baskervilles, to see an interesting criticism of the famous detective and one of his most famous cases.
Holmes is the master detective, but surely someone who wrote about such a brilliant mind would have to be equally gifted. In Conan Doyle for the Defense, the reader gets to follow Sherlock's creator on a fascinating and very real case. A wealthy woman is brutally murdered, and Oscar Slater, a Jewish immigrant is accused, tried, and sentenced to a life of hard labor. The only problem is that Slater didn't do it, and there was not enough proof to convict him! Conan Doyle, outraged by the injustice, becomes determined to set things right. He takes on the case, using the deductive reasoning that made his greatest creation so famous, to discover what really happened and to clear Slater's name.
If you enjoyed this book, consider reading The Man Who Would be Sherlock or Arthur and Sherlock: Conan Doyle and the Creation of Holmes.
I'd like to conclude this post by saying that this is just a small smattering of all the Sherlock Holmes titles available to the interested reader. If you're looking for more, please reach out to one of our librarians or search for "Sherlock Holmes" in our catalog.