I love reading memoirs, because they're a chance to step into someone else's experiences and perspectives, and walk around a bit. You can learn so much about someone's life, religion, job, or culture from their memoirs. I've already shared a blog post about quirky ladies and their memoirs. Today, we'll continue our memoir sampler with a series of books all about food.
These writers are cooks, butchers, and bakers. They are people who just enjoy the taste of good food, and the experiences of sharing it with someone else. Above all, these are stories about tradition, family, and adventure. I hope you find something delicious to read!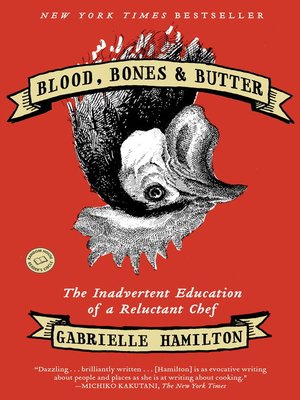 In Blood Bones and Butter, Gabrielle Hamilton shares her love of cooking and her life's story all in one beautifully crafted tale. Before becoming a famous chef with her own highly acclaimed New York restaurant, Hamilton struggled to find her place in the world. From the beloved rural kitchen of her childhood, to her travels across Europe and the hospitality she encountered there, Hamilton spins a beautiful yarn of adventure, personal growth, and of course, good food!
Camas Davis was at an unhappy crossroads in life. Her job and a failing relationship were no longer working out, and she had nothing to fall back on. But then, a friend told her about Kate Hill, an American woman living in Gascony, France, who was taking in borders in exchange for menial work around her home. Desperate for a new start, Davis spends the last bit of her money on a plane ticket to France. There, she is taken under the wings of the Chapolard brothers, a family of pig farmers and butchers who teach her a trade. Killing It: An Education is a heartwarming story of growth and discovery, as Davis must rethink everything she ever knew about life, death, dinner, and so much more.
In The Book of Eating, food critic Adam Platt shares his stories of a lifetime of adventurous eating. As the child of a diplomat, growing up in places like Hong Kong, Taiwan, and Japan, Platt learned early on that it does not pay to be a picky eater. In fact, early exposure to a wide array of different foods helped to develop the eccentric palate that is so vital to his job as a food critic. Platt's memoir takes readers on a tasting tour all over the world, from dim sum in Hong Kong to pierogi in Moscow, this delicious memoir is an expert pairing of food and travel.
Peter Gethers wanted to give his aging mother a deeply personal and thoughtful gift: a lavish feast of all her favorite foods. There's a problem, though. Despite being raised to love and appreciate good food and wine, Gethers doesn't how to cook. My Mother's Kitchen is his heartfelt and hilarious journey to prepare the perfect meal to bring together family and friends to the table of a very special woman. Throughout the book, Peter shares meals and conversation with his mother, as he comes to terms with the illness that is consuming her.
Eating at restaurants can be difficult as a famous food critic. While it's nice to be waited on, and given the red-carpet treatment, sometimes, you just want to enjoy a good meal in peace and relative quiet. And when you're a critic reviewing a restaurant, you want to see how the staff treats the ordinary diner, not just the special guest. In order to dine incognito, food critic Ruth Reichel employs an unorthodox scheme: she goes in disguise. Garlic and Sapphires is Reichl's quirky account of the various personas she's adopted over the years in her attempts to get the authentic restaurant experience for her reviews.