Looking for a way to break in your Dutch oven while enjoying the lovely outdoors? Try campfire lasagna. Just one of the tasty recipes features in The Campside Guide to Dutch Oven Cooking by Paul Kautz available on Hoopla!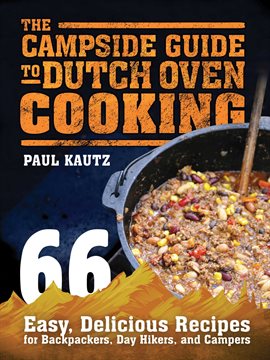 This recipe is for a true primitive camper with no amenities. It takes a special person to put all the effort into cooking in a dutch oven over a fire. Pay special attention to the number and placement of the charcoal. PATIENCE is the key word. It takes a while to get a good fire and then it took longer for the baking.
Once you gather all the ingredients and layer them in the dutch oven it cooks by itself. The trick is to have the heat hot enough. Stay near the fire, but don't lift the lid.
My mistake was not realizing I needed more air flow under the Dutch oven, therefore it did not stay hot. Adapting to our camping we put it on the gas grill to finish cooking.
It was a very tasty lasagna and the recipe lends itself to adding or subtracting ingredients. I added fresh oregano and parsley. I also used about 8 ounces of Italian sausage and chopped garlic with the ground beef.
On a personal note, this was very time consuming. It is not something I would do on a regular basis. Some people thinks it is fun to cook over an open fire. Also, cleaning the Dutch oven was a pot scrubbers nightmare. We soaked it with very hot water before the cleanup began. I understand the more you use it the better it gets seasoned. Guess I'll have to try again in the future!
Review by Judy McNamara
Adult Services Senior Associate