Did you know that you can access a variety of cookbooks 24/7 from the comfort of your home? Hoopla has several titles that are available to download to your smartphone, tablet or browser at any time. All of these titles can be checked out for three weeks, and are automatically returned at the end of their loan period. They are always available, so you don't have to worry about placing a hold. Just browse, borrow, and download. Easy!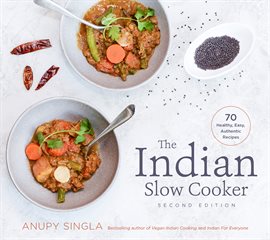 I have always loved Indian food, but have rarely summoned the courage to try to create some dishes myself. When I came across The Indian Slow Cooker second edition by Anupy Singla I had to try it. I have been using my slow cooker a lot lately, so it was perfect. This week it is my profile pick.
I made the lamb biryani on a Sunday, and it did not disappoint. It does require several ingredients, but with a few substitutions, I was able to pull off a tasty dish. While I used lamb, chicken or beef could be used instead, and would be more affordable. I created my own garam masala from spices I had in my cupboard. I highly recommend using fresh cilantro and mint if you can find it. They add a fragrant element that is decadent. Be careful with the chile peppers. The recipe calls for two to six serrano, Thai or cayenne chiles. I added one chile pepper and it was enough for us. I also browned the onions on the stove top before adding them to the slow cooker, and they mixed well with the lamb. Do not skimp on the onions or garlic. They are very necessary to this dish. A half a teaspoon of saffron soaked in milk is listed as an optional ingredient. I couldn't find saffron at my grocery store, so I left it out, but it is essential in several Indian dishes because of it's aromatic qualities. It is definitely worth adding if you can afford it.
If you like this one, you may also like these titles, also available on Hoopla. Happy cooking!