Want to read more? Check out Part 2 here!
We'll wrap up this warped list of creepy classics with five more fiendish titles! All titles can be accessed through Hoopla with your library card!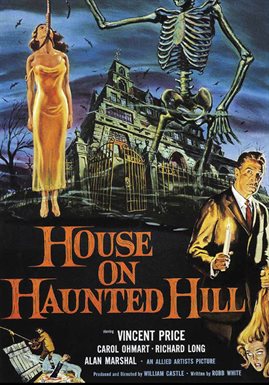 A millionaire offers a group of strangers $10,000 to spend the night for his wife's haunted house party. But, of course, things never go as planned, and the guests soon find themselves in danger of their lives, as they share the house not only with each other, but also with ghosts, murderers, and other terrors! To join in the fun, check out House on Haunted Hill!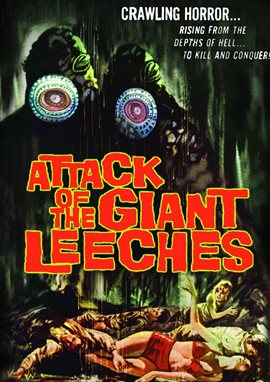 In the super-campy Attack of Giant Leeches, a backwoods game warden and a local doctor discover the horrifying secret behind a rash of disappearances in the area: giant blood sucking leeches. But, as is always the case, no one believes them when they try to spread the word of warning.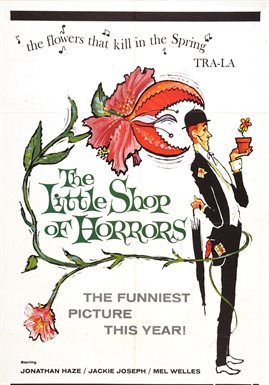 Seymour Krelborn works at a Skid Row flower shop where he enjoys experimenting in plant breeding. However, there is something wrong with his most recent creation, Audrey Jr. (named in honor of his crush, Audrey). Not only does Audrey Jr. talk, but it also demands a steady diet of fresh human meat and blood. The body count starts to stack up as Seymour tries to keep Audrey Jr. fed and happy in The Little Shop of Horrors.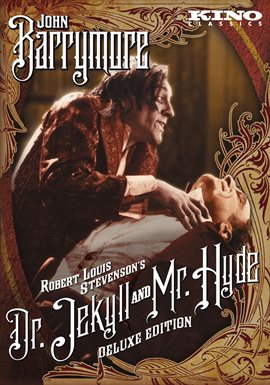 Dr. Jekyll performs experiments on himself to see if he can separate the good and evil in a person's heart. But, instead of eliminating the darker side of his nature, he releases it–in the form of the villainous Mr. Hyde. Soon, Jekyll finds it nearly impossible to prevent Hyde from taking over their shared body. Check out the original (and arguably best) film adaptation of this classic story in Dr. Jekyll and Mr. Hyde.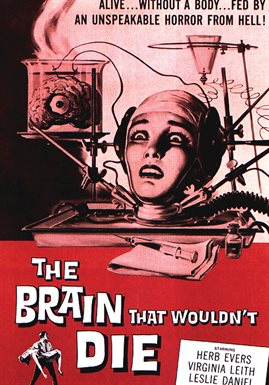 After a tragic accident decapitates his fiancee, Jan, Dr. Cortner uses his expertise in transplants to save her life. He keeps Jan's severed head alive in a liquid-filled tray while he searches for a suitable substitute body, eventually targeting a model with a scarred face. Jan, however, is disgusted with her disembodied stated, and starts to make plans of her own. This is The Brain that Wouldn't Die.