Missed part 1? Check it out here!
I love classic horror films! The spooky, the campy, and the utterly bizarre–I just can't get enough of them! Here are a few more terrifying titles that you can check out through Hoopla with your library card.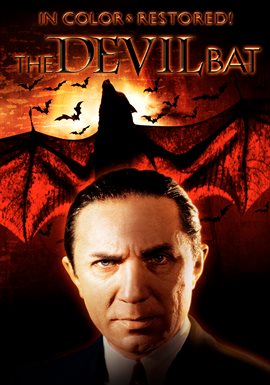 Kindly Dr. Carruthers believes that he has been wronged by his business partners after they get rich on a product that he created. Driven mad by jealousy, Carruthers begins breeding a species of genetically modified giant bats, which are attracted to a special aftershave lotion that he gives to his enemies. Will he be stopped? Or will each of his business partners fall prey to The Devil Bat?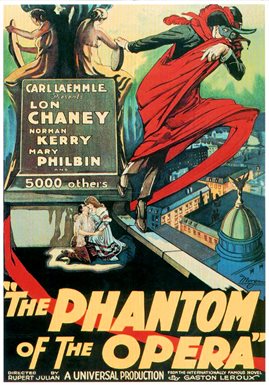 I fondly think of The Phantom of the Opera as the film that got me into horror films. Lon Chaney's classic performance and iconic makeup were all I needed to become completely hooked.
Christine Daae's musical career has skyrocketed. But, no one realizes that it's all because of a masked madman living in the opera house, teaching her to sing. Things take a dark turn when her mentor decides to bring her to his home underground, as his prisoner and bride.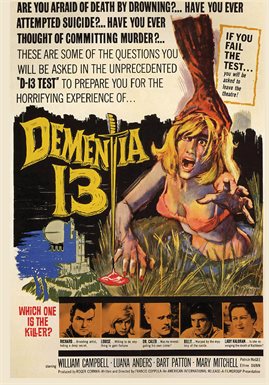 John Haloran dies of a heart attack. This makes things complicated for his widow, Louise, who will lose out on her inheritance from John's mother's estate if he's dead. So, she does the only sane thing she can do–forges a letter to make it look like John is on a business trip to New York, and then disposes of the body. Meanwhile, the family gathers to remember the death of their youngest daughter, who died decades ago, in a morbid ceremony which takes place every year. But, this time, there's a ax-wielding maniac prowling the grounds. This is Dementia 13!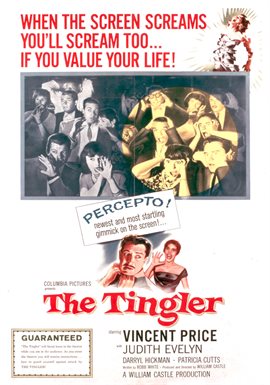 Dr. Warren Chapin believes that there is a creature that lives in the spine, which is responsible for that shiver we feel when something frightens us. He dubs this creature The Tingler, and starts a series of controversial experiments to prove to the world that the beast really exists.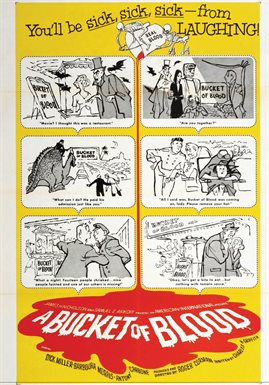 Walter Paisley accidentally kills his landlady's cat, and dips the body in plaster to hide the evidence. But, when people see the results, he quickly develops a reputation as a brilliant sculptor. As Walter tries to meet the demand for more and more sculptures, he must start looking for fresh victims in A Bucket of Blood.