A.J. Jacobs is one of my favorite authors to recommend when people are looking for a book that's smart, but also fun. Jacobs tackles the strangest social experiments, making for books that are just as unpredictable as they are enjoyable to read. Whether he's exploring the best way to get fit and healthy, putting Old Testament law into modern practice, or reading the entire encyclopedia, Jacobs always finds a way to make life interesting.
The Guinea Pig Diaries is easily my favorite of Jacobs' books. As the title suggests, each chapter is based around a different social experiment involving the author. For a month, he practices radical honesty. Another time, he outsources his entire life to a team in India (they answer his emails and even argue with his wife for him!). And perhaps most daunting of all–the month he agrees to do everything his wife asks–without exception. This hilarious book will have you rolling your eyes and laughing out loud!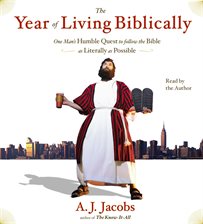 In The Year of Living Biblically, Jacobs decides to tackle the complex laws outlined in the Bible (most specifically, the Old Testament), by following them all. As you can imagine, things get interesting. Besides practicing the Ten Commandments, Jacobs also has to deal with lesser known laws, such as to avoid wearing clothing of mixed fibers, following specific dietary laws…oh, and stoning adulterers. The resulting adventure is as ridiculous as it is fascinating, and both believers and non-believers will find something to enjoy.
Think your family is boring? Well, that might be because you didn't look long enough. After receiving an email from his eighth cousin who claimed to have listings of 80,000 of their shared relatives in a genealogy database, Jacobs sets out to create biggest family tree possible, learning a whole lot about himself and his kin in the process. Read all about what happened in It's All Relative!
We all want to be healthy. But, what is the best way to do that? Exercise? Eating well? Getting lots of sleep? Drop Dead Healthy explores all the best ways to perfect your body for maximum health. After being hospitalized for pneumonia, and realizing that he wasn't in nearly as good of shape as he would have hoped, Jacobs sets out to make his body the best that it can be. Not content with just completing a triathlon or losing a few pounds, this go-getter goes all out–even hiring a full team of doctors to help him in his quest for bodily perfection!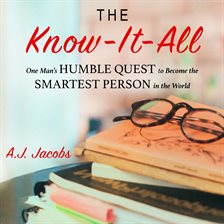 We'll wrap this list up at the very beginning, with The Know-It-All. The very first project that launched Jacobs into his own brand of quirky non-fiction fame came when he decided to sit down and read the entire Encyclopedia Britannica A-Z, cover to cover, every last entry. The resulting experience (33,000 pages!) will leave you glad that you didn't think of it first, but made for a super-entertaining and ridiculous adventure.
Looking for more? Besides writing, Jacobs has also been featured in several TED Talks, on a variety of topics (mostly about his books). If you're looking to get the Cliff's Notes version, you should definitely check them out! However, I'd recommend starting with this one, where he sets out to personally thank every person responsible for his morning cup of coffee. This isn't the topic of a book (yet), but it's a great study of the concept of gratitude.