The perfect "medicine" when you need a good laugh!
I'm sure I speak for all of us when I say that the constant talk of Coronavirus has gotten us all a bit stressed and depressed. What we need (in this time of uncertainty) is to have a little fun. A little escape. And for me, there has never been a writer who achieves this quite as perfectly as PG Wodehouse. If you're looking for a fun and silly story with quick pacing and a brilliant use of language, then look no further than the master himself!
I've found that you can generally read these books in any order you want. Sure, there will be references to events of previous books, and some details might get a bit confusing, but generally speaking, each book is self-contained. But, if you're like me and prefer to read your books in the proper order, then I've got you covered! I've listed below a couple of Wodehouse titles, and what you should read next if you like what you just read.
Titles are all available on Hoopla.
When one thinks of Wodehouse, the first thing that comes to mind is usually the Jeeves and Wooster series. These hilarious books follow the exploits of perpetual bachelor Bertie Wooster, his meddling friends and love interests, and of course, the inimitable Jeeves, his "gentleman's personal gentleman" who gets him out of all kinds of scrapes. This short story collection includes some of my favorite Jeeves tales, including the story about how Bertie and Jeeves first met.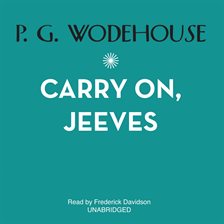 If you liked this one, try My Man Jeeves next.
Another one of the more popular Wodehouse series revolves around the events at Blandings Castle. Unlike the other Wodehouse series I'm suggesting here, these tales don't have a listed "reading order", so we'll be sticking with the order in which they were published. In Something Fresh, we have a witty tale of mix-ups, impostors, and a missing scarab beetle valued at £1,000!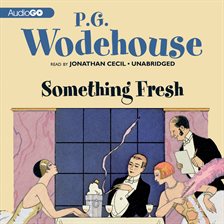 If you liked this one, try Summer Lightning next.
The Uncle Fred stories just might be my favorite Wodehouse series (second only to the Jeeves and Wooster books). Poor Pongo Twistleton just wants to live a normal life. But, things constantly get turned on their heads when his Uncle Fred comes to visit. Despite getting on in years, when Uncle Fred comes to London, he acts as old as he feels (which is apparently about 26). This leads to all kinds of trouble for Pongo and his friends. In this book, an attempt at playing Cupid for an old friend ends up embroiling uncle and nephew in an increasingly convoluted plot.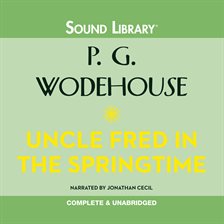 If you liked this one, try Uncle Dynamite next.
One more thing I forgot to mention! Perhaps my favorite part of the Wodehouse books is the crossover aspects. That means your favorite characters, like Lord Emsworth, Uncle Fred, Pongo, Bertie, Jeeves, Roderick Glossop, and more will make appearances across series. Uncle Fred visits Blandings, Pongo and Bertie go to the same club, etc. It really brings the whole "world" together, and makes for more fun.
Happy Reading!